Sibs & Kids weekend set to be a 'wild time'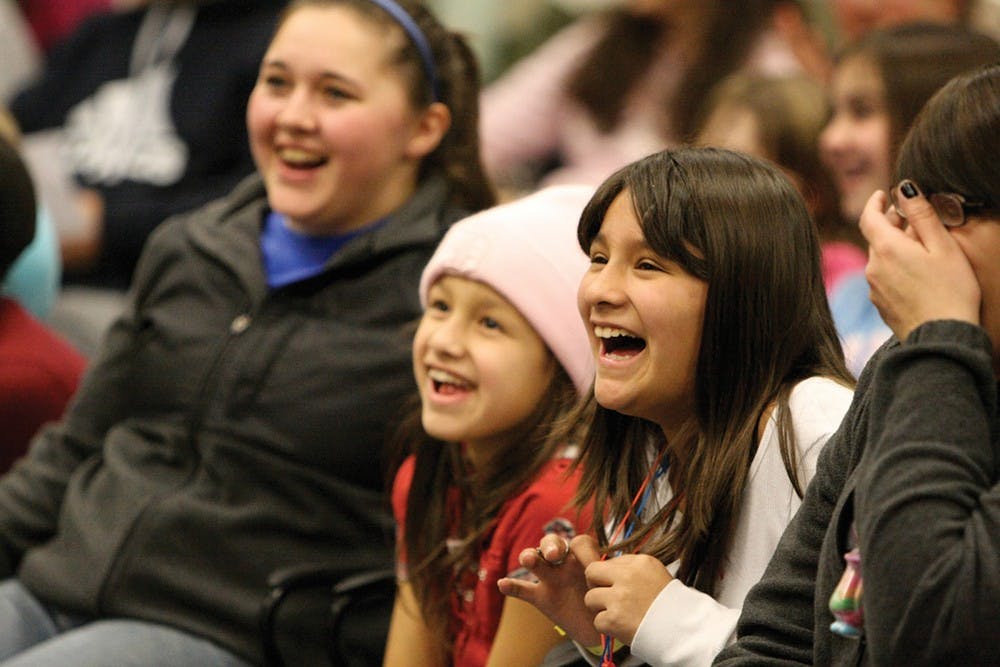 Courtesy / Tyler Ziola
Last year Sibs and Kids Weekend.
Seeing someone under the age of 17 is a bit of a rarity on the Grand Valley State University campus, but GVSU is about to welcome a group of students far younger than the average college student.
This weekend, GVSU will host the siblings and family members of its students during the annual Sibs & Kids weekend. The weekend, which is jungle-themed, will feature special activities for the participants as well as all GVSU students, whether they bring a sibling or not.
"Sibs & Kids this year has a theme of 'It's a Wild Time,' so it's jungle themed," said Kelsey Rice, an organizer of the weekend. "Expect to see the 2020 desk to be decorated with monkeys hanging and all that stuff."
Not only will the decorations be jungle-themed, but some of the activities will be, as well. On Friday night, herpetologist Keith Glisser will kick off the weekend by bringing in some exotic jungle reptiles.
"We have a snakes guy that's coming in," Rice said. "He'll bring all types of snakes for the kids to hold and look at and hopefully not escape."
There will also be a "Human iPod" — Josh Rush, who can sing any song that is requested on the spot. Nick Pike, a juggler who has been on America's Got Talent, will also be performing.
The weekend will also feature performances by GVSU clubs and organizations including the belly dancing club, the swing dance club, the a cappella group Euphoria, and Move to the Beat.
"We tried to get a little bit of everything for all different age groups," Rice said. "It's typically in the past been geared toward the younger kids, more of the 6 to 12 age group, but we tried to broaden what we were bringing in, like the Human iPod and some of the other performance groups that we thought would attract that 12- to 15-year-old variety, too."
Participants will also be able to make T-shirts, get caricatures done of themselves, and watch "Jumanji" or "Princess and the Frog." There will be a variety of obstacle courses and physical challenges, including bouncy boxing, a bouncy obstacle course, a bungee run and gladiator jousting. The Recreation Center will be open to all students and their siblings, as well. The events on Saturday finish up with an evening at the David Hunting YMCA in Grand Rapids.
The programming is free for all GVSU students, and there is a $20 registration fee for all younger siblings. There is an additional charge of $5 for the all-you-can-eat pancake breakfast on Saturday morning. Students can register through Thursday.
The weekend, which is an annual event, allows for the younger siblings of GVSU students to experience campus in a more intimate way.
"I always like to say that the goal of the weekend is to introduce (the kids) to Grand Valley and to see what their sibling at Grand Valley gets to experience and really get to see what the campus is like," Rice said. "They get the chance to make great memories here at Grand Valley."
Even if GVSU students don't bring a sibling, they are welcome to participate in all Sibs & Kids weekend events.
"We just hope that it's another fun experience for the current Grand Valley students to put in their bank of memories here, however long they've been here," Rice said. "It's also for the younger students to just see what campus is like and experience some fun things away from home."
Rice, herself, has fond memories of participating in Sibs & Kids weekend. "When I was a freshman, my brother came," she said. "He was about 10 years old, and we did the whole thing. He played in the turf building all day and we decorated cookies. It was great having my brother get to see all the things that I get to see every day. I have fun on this campus all the time, so it was great to share in that with him. The whole weekend was a lot of fun."