Gary Bissell revamps GVSU men's golf
Coach: 'Whoever is playing well is who is going to play'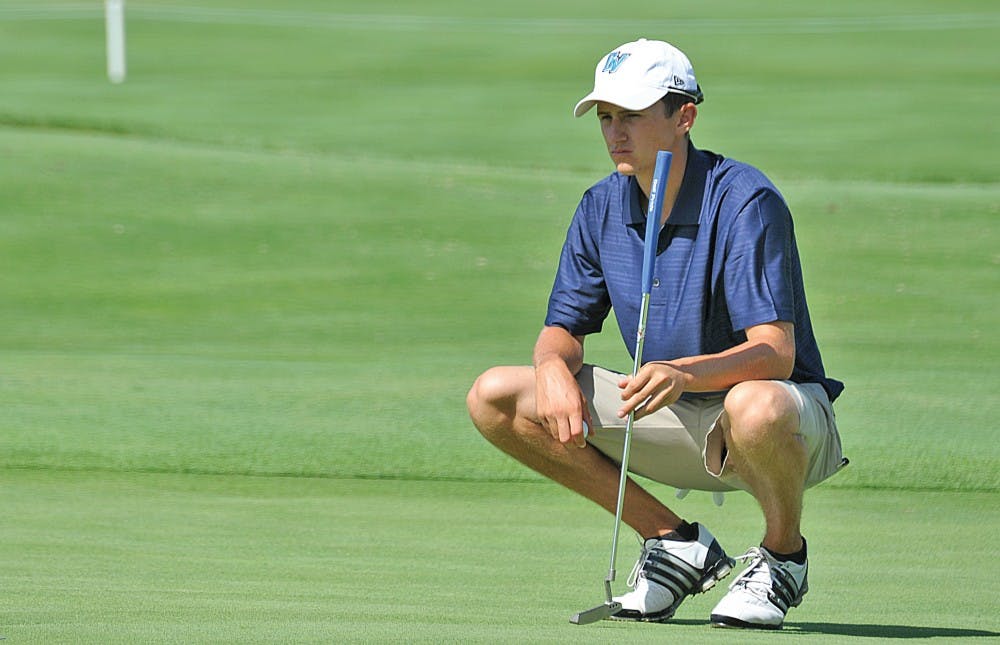 GVL / Alex Ramales - Jack Rider
Gary Bissell played his last collegiate golf match in 2012 as a member of Ferris State University. Now, just two years removed from his playing days, Bissell leads the Grand Valley State University men's golf team in his rookie season as head coach.
Familiar with the game, the conference and the mark of a victor, Bissell is planning on implementing a few changes after taking the reigns from 20-year head coach Don Underwood.
The Underwood era had little variation among key players each year. Often, the team saw just five or six players crack the lineup while the rest waited idly by, hoping against hope for a chance to sneak into the rotation.
A new coaching philosophy combined with a roster that runs as deep as GVSU has ever seen will make the old policy obsolete. The slate has been wiped clean, and, even as the season progresses on, little will be set in stone.
"What you did in the past doesn't mean that much to me right now," Bissell said. "Whoever is playing well is who is going to play. I don't ever want the guys playing in the four and five slots to feel safe. They need to stay motivated."
The Lakers plan on seeing a mass of internal competition thanks to both a strong junior class and a wealth of new talent.
Redshirt senior Jack Rider leads the row of returners expected to contribute, while juniors Chris Beltzer, Austin Eccleton and Tyler Polulak will all look to expand upon impressive 2013-2014 campaigns.
Many current Lakers also had a chance to improve this summer, as a number of them spent time honing their skills in various tournaments around the Midwest.
"Summer is a good time for everyone to play in the bigger tournaments," Eccleton said. "Usually everyone is ready to get back to Allendale and start playing together again when the time comes."
When the squad assembles in Allendale for the first time, three new faces will be in their midst.
NCAA Division I transfer Trevor Rosekrans has arguably been the biggest prize of Bissell's tenure to date. Rosekrans spent three years playing for Oakland University, where he earned his undergraduate degree in as many years. A biomedical engineering major, Rosekrans is coming to GVSU primarily for graduate school, but he still holds one year of NCAA eligibility which he will exercise this season.
Bissell also managed to build for the future and accelerate the talent of the present with the signing of two freshmen for the upcoming season.
Brent Marshall, a three-time MHSAA All-State selection, led Lansing Catholic Central High School to back-to-back MHSAA Division III state titles in 2013 and 2014. Bissell said Marshall is a "a culture-changer" and "one of the hardest workers you'll ever be around."
The Lakers also added another signee from the top ranks of Michigan's high school golfers. Domenic Mancinelli, a Detroit Catholic Central High School grad, is a nationally ranked top 1,000 player.
Players who hold this distinction tend to be considered as Division I talent, but Mancinelli was overlooked. In high school, he was a two-sport athlete who held hockey as his top priority. As a result, he flew under the radar for golf recruitment until Bissell was tipped off. Mancinelli had already chosen GVSU for his studies, and, after playing in front of Bissell for one tournament, he was chosen to be the third newcomer for GVSU golf in 2014.
The new-look 2014 crew certainly appears to have potential, especially because each player fighting for a roster position is accustomed to making significant contributions – and each one has had a taste of success in the past.
That wasn't necessarily the case at GVSU last season, however, as the Lakers placed ninth in the NCAA Super Regionals. The team was unable to qualify for the national championship, which was hosted at The Meadows in Allendale last year.
Needless to say, the Lakers expect to go further this time around.
"We're not at all content with making it to Super Regionals," Rider said. "It's all about taking that next step for the program and introducing the newer guys on the team to a winning lifestyle."
GVSU begins its season Sept. 15 at the University of Indianapolis Invitational at Brickyard Crossings G.C.