Highlighting the low-pitched
GV's Octubafest showcases the tuba and euphonium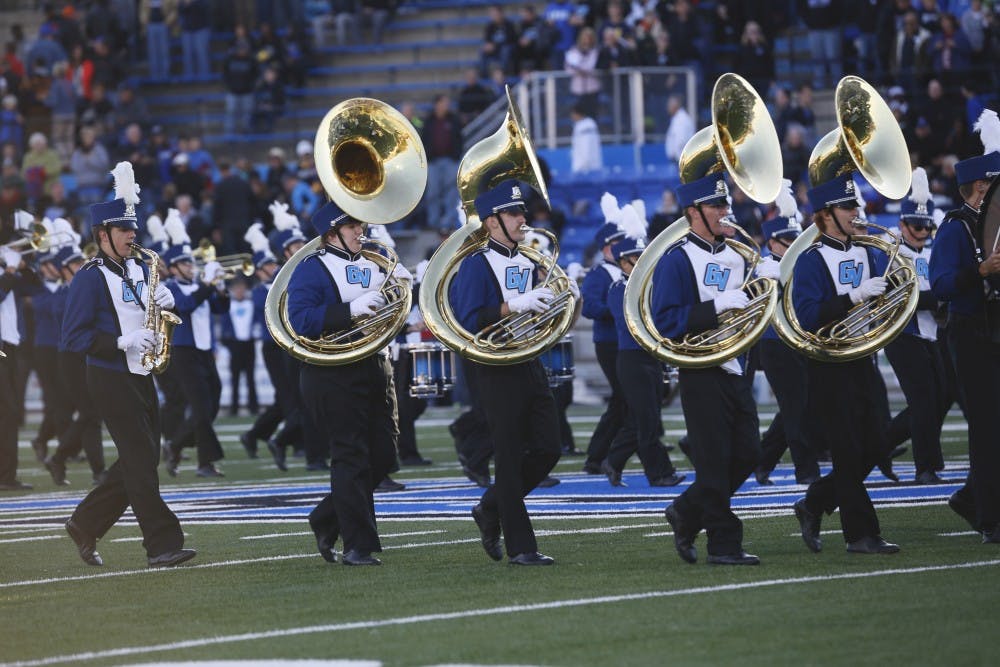 GVL / Marissa Dillon
While the tuba is widely recognized as the foundation of most any ensemble, it isn't often that the sizeable brass piece receives recognition for its use as a solo instrument.
Octubafest aims to change that.
A concert series crafted to highlight tuba and euphonium players, Octubafest will take place on Oct. 24, 26, 29 and 30. All four gatherings will be held in the Sherman Van Solkema Recital Hall in the Performing Arts Center.
The first three concerts will feature members of the studio performing solo works. The set lists will represent music from the Baroque, Romantic and 20th Century periods. The final concert on Oct. 30 will feature various chamber groups ranging from tuba quartets, a duet, a brass quintet and the debut of the Grand Valley State University Tuba and Euphonium Ensemble, which is comprised of the entire studio.
This is Octubefest's third year at the university. As in past years, GVSU affiliate professor Paul Carlson will direct the festival. Carlson's decision to introduce the fest to GVSU came after his own experiences as a tubist during his time as a doctoral student at Indiana University as well as during his masters program at the University of New Mexico.
According to Carlson, the tuba has a dark, deep, rich, beautiful sound that is also full of different colors or timbres – something that deserves to be recognized.
"It is usually used as a bass instrument in an accompaniment role, but has developed into a fantastic solo role as well," Carlson said. "I think I'm drawn to it because it is a bit of an underdog. People don't expect to hear beautiful music from the tuba and every time we play, we have an opportunity to show them just how great it can be."
According to Carlson, the first few years of the celebration have been a success for all involved.
"It has been a great opportunity for the students of the tuba and euphonium studio to grow as soloist and chamber musicians," Carlson said. "It is a great vehicle for them to step into the spotlight and share their talents and gifts with the GVSU community."
While the event may only be in its third year at GVSU, the tradition dates back to when the late Harvey Phillips – a famous tubist and the only brass performer in the Classical Music Hall of Fame – began hosting it at Indiana University. It has now spread to a handful of universities and continues to grow.
"Many of the finest tuba and euphonium studios in the country hold events similar to what we're doing at GVSU," Carlson said. "The fall is a time to give thanks to the composers, teachers and performers that have built our repertoire and traditions and to celebrate the new class of musicians beginning their careers. Octubafest is an opportunity to do that through performing."
This year will see the introduction of a perhaps what is now the most relevant group involved – the GVSU Tuba and Euphonium Ensemble.
"This is a new ensemble that began rehearsing just this fall," Carlson said. "We will be performing transcriptions of music by Wagner, Mozart, Faure and Sousa. It will be a very exciting performance."
Just as Carlson learned the value of tubists and euphoniumists through his professors, he hopes to instill the same ideology in the student musicians that he works with.
Every Octubafest performance is free of charge and open to the public. For more about Octubafest, visit gvsu.edu/music or call (616) 331-3484.
arts@lanthorn.com