Former first daughter to speak at GV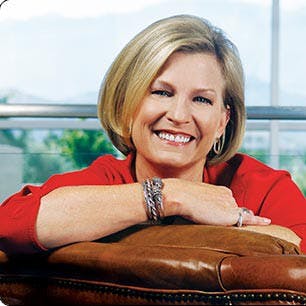 GVL / Courtesy - womensconference.org
Susan Ford Bales, daughter of President Gerald R. Ford and Betty Ford, will be speaking during the second lecture in Grand Valley State University's College of Education 50th Anniversary Golden Lecture Series about what education was like for her parents.
"The Education of Gerald R. Ford" will take place Nov. 18 in the Loosemore Auditorium in the DeVos Center on the Pew Campus. There will be an opening reception at 5:30 p.m. and the lecture will begin at 6:30 p.m.
The lecture will be moderated by Hauenstein Center for Presidential Studies' Director Gleaves Whitney and will also feature Hendrik Booraem, author of "Young Jerry Ford."
Linda McCrea, director of teacher education at GVSU and chair of the 50th anniversary committee for the college, said the lecture will include different perspectives on the life of Ford.
"It is always important to continue to learn and to look at things from different perspectives," McCrea said. "Many students only know Ford from the museum that sits across the street. It is important to know where one's roots are and where education started and where we are."
McCrea said the lecture will include a discussion about Ford's signing of the Education for All Handicapped Children Act in 1975, which provided equal access to education for children with physical and mental disabilities.
The discussion will also look at the role that the Ford family had in the community of Grand Rapids, Whitney said. He added that the panel will discuss what the ingredients of Ford's success were.
"He had excellent schooling, which prepared him to go to U of M and Yale law school," Whitney said. "If you look at all the elements, he had a great platform."
Whitney added that Ford came from a troubled background and that the panel will look at how he overcame these difficulties and became the 38th president of the United States.
"He did not have it easy, even though people assume he did," Whitney said. "That in itself is interesting that someone coming out of a troubled home could go on to be a great leader."
Whitney said that he is hoping for a good student turnout and that students may be able to draw connections between aspects of Ford's childhood and students' childhoods today.
"We learn so much so much through empathy, and we learn empathy by hearing and accepting the stories of others," Whitney said.
The lecture is LIB 100 approved and will include a question and answer session following the lecture.
The College of Education 50th Anniversary Golden Lecture Series is a four-part lecture series to celebrate 50 years of teacher preparation programs at GVSU.
The next event in the series, "The State of Education in Michigan," will occur on Feb. 10 and will feature State Superintendent Mike P. Flanagan and a panel of West Michigan administrators.