DiIanni turns page, finds success at Iowa
Dave DiIanni and Jeff Hosler add new chapters to the same book – winning soccer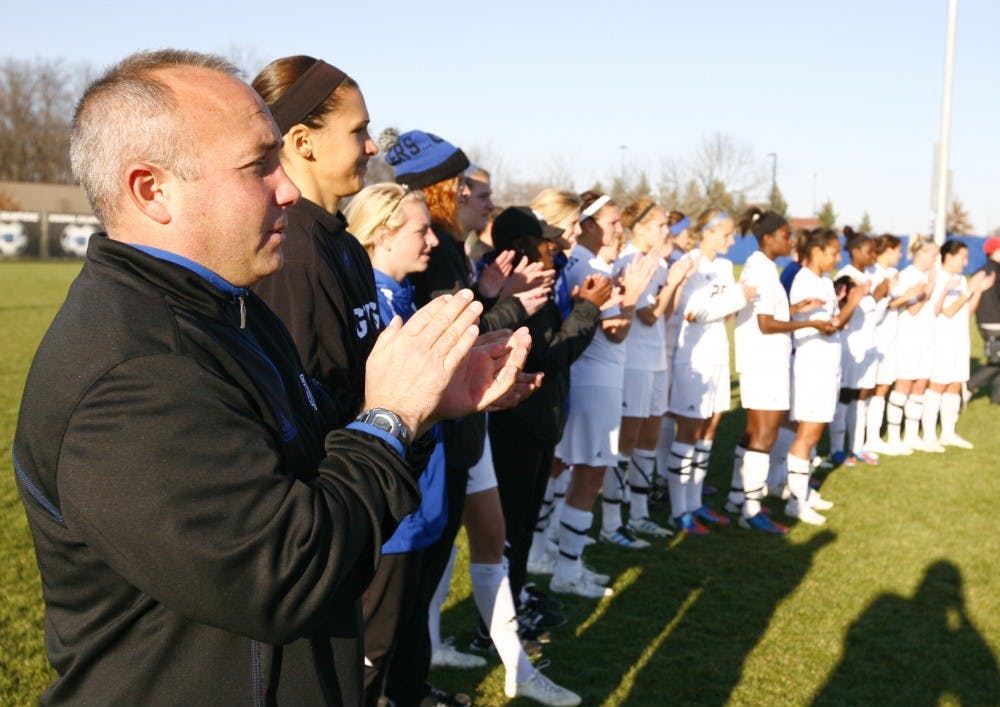 There are those that, in the instant they strike in the last period on the final page of a grand work – a thesis, for example, or a paper written in haste the night before the deadline – wash their hands from the keyboard and immediately push away from their desk.
These people are generally known as students.
There are others who are not so easily satiated. That sit down to toil and write until they bleed, and view the final page a bit differently. Not as an end, but as a beginning. And when they've reached it, they turn the page to start anew.
We call them authors.
Both groups have been known to pen masterpieces, but it's the latter group that is typified by those that grace work after work with a Midas touch. It's the latter group where former Grand Valley State women's soccer coach Dave Dilanni belongs.
"Eventually you want to have tradition, a culture of success breading success, but to do that, you have to start on page one," Dilanni said. "It's a process."
---
Many fledgling authors are instructed to start by writing what they know, and what Dilanni knows is soccer and winning. What he knows, he knows well.
So, after a successful seven-year stint as head coach of the Jackson Lumen Christi High School women's soccer team, and three years as an assistant at Hillsdale College, Dilanni made his collegiate head coach debut at Division II GVSU back in 2003, and embarked upon penning a decade-long 'New York Times Best Seller' tenure.
"There have always been wonderful people that are passionate about the team and the school and the program everywhere I've gone," Dilanni said. "With that support – and I'm grateful to have had it – the expectation is always to win, and that's something I think about every day I've been on the job."
DiIanni coached 21 All-Americans and accrued a 221-18-18 record during the 11-year span at GVSU. His .895 winning percentage is the highest of any coach in any sport in the Division II ranks, and the third-highest amongst all coaches in any division.
He collected nine consecutive GLIAC titles, 11-straight NCAA Tournament berths, seven Final Four appearances in the last eight seasons and three NCAA Division II national championships – including one in 2013, his final season at the helm.
A title – a third in five seasons – gleaned from a season that led with the second-longest shutout streak in Division II history, and saw the Lakers score the second-most goals in program history (88), while also matching a program-high 21 shutouts.
Bolstered by five All-Americans, the 2013 team finished 24-0-1, tying the mark for most single-season victories in school history, and claimed both GLIAC regular season and tournament titles. For his efforts, DiIanni was named the National Soccer Coaches Association of America (NSCAA) Coach of the Year for a third time, and atop the peak, recognized the time to mark an ending was near.
It was time for a new project and, on May 17, the page turned. Dilanni was hired on as the fifth head coach in the University of Iowa women's soccer history, and had made the move to Iowa City by June 1.
"I think my family and I will always have a soft place in our hearts for GVSU, but I was excited to challenge myself professionally by becoming the head coach of Iowa," DiIanni said. "The memories stay and hopefully the successes will too, but the right kind of change can be good."
---
Few have received more acclaim for their debuts than DiIanni did in 2003 when he directed the GVSU women's soccer program to a then-school best record of 17-2-2 and its first-ever NCAA Tournament berth, but both he and successor at GVSU, Jeff Hosler, have given their inaugural seasons with new teams their best go.
Despite jumping up a division, taking over without the benefit of spring play and losing five different players to ACL injuries suffered throughout the season, DiIanni helped escort Iowa to a 14-7-1 (7-6-1 in the Big 10) record after losing to Wisconsin 1-0 in double-overtime in the championship game of the 2014 Big 10 Tournament.
"The transition has been a whirlwind, but considering some of the adversity we were faced with, I was really very happy with how the season ended up," DiIanni said. "The level of talent across the board in the Big 10 is so high, and the margin for error so low that this past season, about 80 percent of games played inter-conference were decided by a goal or ended in a tie.
"That's completely different than what we were used to at GVSU. It's less about the technical ability of the players than it is about the tactical skills on this level, and I've had to adjust in some ways."
Despite jumping up a division, and deep cleats to fill, Hosler has also adjusted amicably. His 19-2-1 record (10-1-1 GLIAC) and .886 win percentage fall perhaps a notch shy of the bar DiIanni set, although you wouldn't notice from a glance.
Hosler – younger and slightly more offensively inclined than DiIanni – will continue to write his story his own way in his own voice, although the arch he's outlined so far closely resembles his predecessor's story that he was bequeathed to continue.
"Tim Selgo is one of the best athletic directors in the business because he knows what he's looking for and then goes out and gets it," DiIanni said. "I've always had respect for Jeff as a peer and it's exciting to see the success he's had already at GVSU.
"I know both Jeff and the girls in the program had massive expectations for the season, most of which were self-imposed, and I'm so proud of the job that they've done. I don't always get to follow them on as much as I'd like with how busy I've been, but I always keep one eye on them from Iowa City.
---
GVSU will continue its season with a match Friday against No. 3 Wisconsin-Parkside with a spot in the quarterfinals of the NCAA Tournament on the line. Anything less than a championship might be seen as a disappointment.
DiIanni will have to wait until next year to chase a championship, and will have to do while combatting more adversity – Iowa graduates nine seniors from the team after this year – but understands that as daunting as a blank page can be, fresh starts also allow for new opportunities.
It took DiIanni three seasons to win his first conference championship at GVSU, and, like writing a work worth reading, building a soccer program takes time. For both he and Hosler, there are plenty of blank pages ahead left to fill.
Keep reading.
"It's a process," DiIanni said. "That's the only way I can put it. I did this at GVSU, Jeff did it at Alma, and well as you and the players do, you don't create a winning culture or a sustainable program overnight.
"It takes many days of consistent effort over many years, a certain work ethic consistently applied, but I've never been afraid of hard work. I'm sure that's true of Jeff, too."
pbarrows@lanthorn.com