Hamilton transforms into leader for GVSU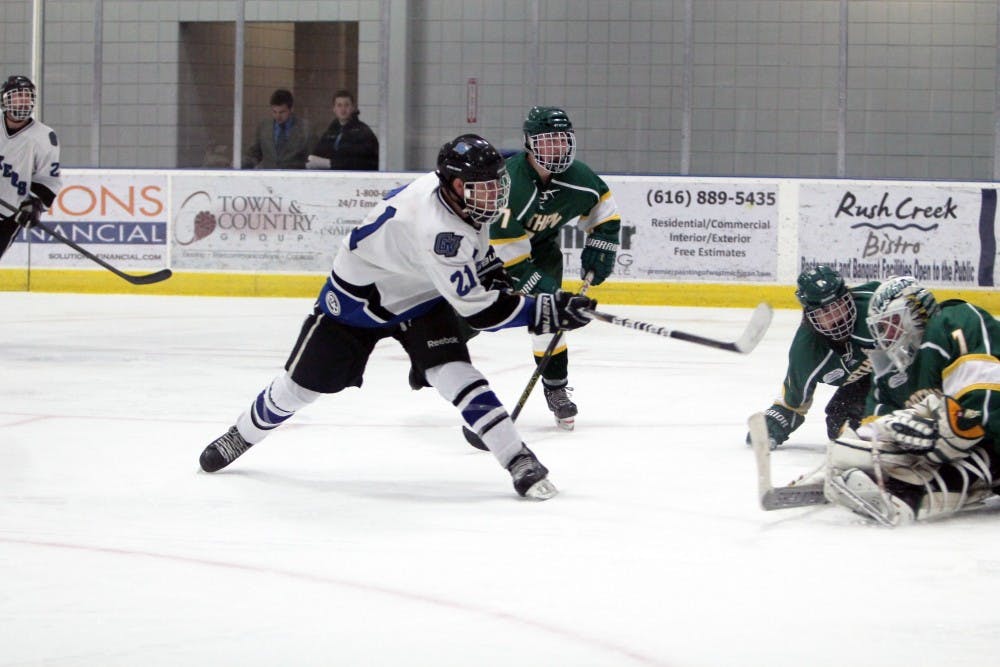 GVSU senior Ian Hamilton (#21)
Consistent success in both penalty kills and scoring chances has given Ian Hamilton good reasons to consider this season his best one yet.
Hamilton, a senior for the Grand Valley State Division II hockey club, racks up points game after game, currently boasting three game-winning goals in addition to sitting in third-place on the team in scoring.
Head coach Mike Forbes credits Hamilton's recent triumphs to both a development of talent and a recent rise in confidence.
"This year, I think he understands that to have one good shift isn't enough, and to have one good game isn't enough," Forbes said. "The fact that he is number three in scoring and not playing on the power play speaks to how well he has developed and how much confidence he has this year."
Forbes says that Hamilton is a go-to player for penalty kills, along with fellow senior Zac Strain.
"He's a big body, and he's always had a great deal of talent, even coming out of high school," Forbes said. "He is a raw talent. He understands that it takes a series of hard efforts and a series of games together to keep his performance at a higher level."
Forbes also said that Hamilton has been "a big, strong kid" since he came to GVSU and that he's been waiting for Hamilton to finally develop into the "game changer" he is.
"We've just been waiting, you see flashes of it, but now I think he has the confidence," he said.
If Hamilton continues to play the way he has been, GVSU should have no problem improving its 14-2-2 record. But, of course, behind every great player is his backbone: his teammates. Junior Tony Russo sheds some light on how Hamilton plays on the ice and who he is when the skates come off.
"Ian has a great wrist shot and is very strong on his feet, especially in the offensive zone," said Russo, Hamilton's linemate.
Russo said he has noticed an increase in Hamilton's work ethic this season, and that has helped Hamilton gain confidence.
But being a great player is more than just taking shots on goal and making big plays. Off the ice, Russo said Hamilton takes on more responsibility and knows more is expected from him this season.
"He's a vocal person but a quiet leader," Russo said. "He's not a 'give a huge pre-game speech' type of leader. He goes about his business, prepares, and plays his game…He's a leader and a veteran on our team and he plays big when we need it most."
Russo and Hamilton have found success together on the ice, often finding each other when a play needs to be made or the puck works its way into the offensive zone.
"He and I play best under desperation, that's why I think most of our goals have come in later periods," Russo said.
Whether by this desperation to win a game or by a top-shelf wrist shot that leaves the goalie with a nasty case of whiplash, Hamilton is making sure that the puck sees the back of the net as often as possible.
haji-sheikha@lanthorn.com