By the numbers: Sabin's career at GVSU
Senior to play in last regular season game on Thursday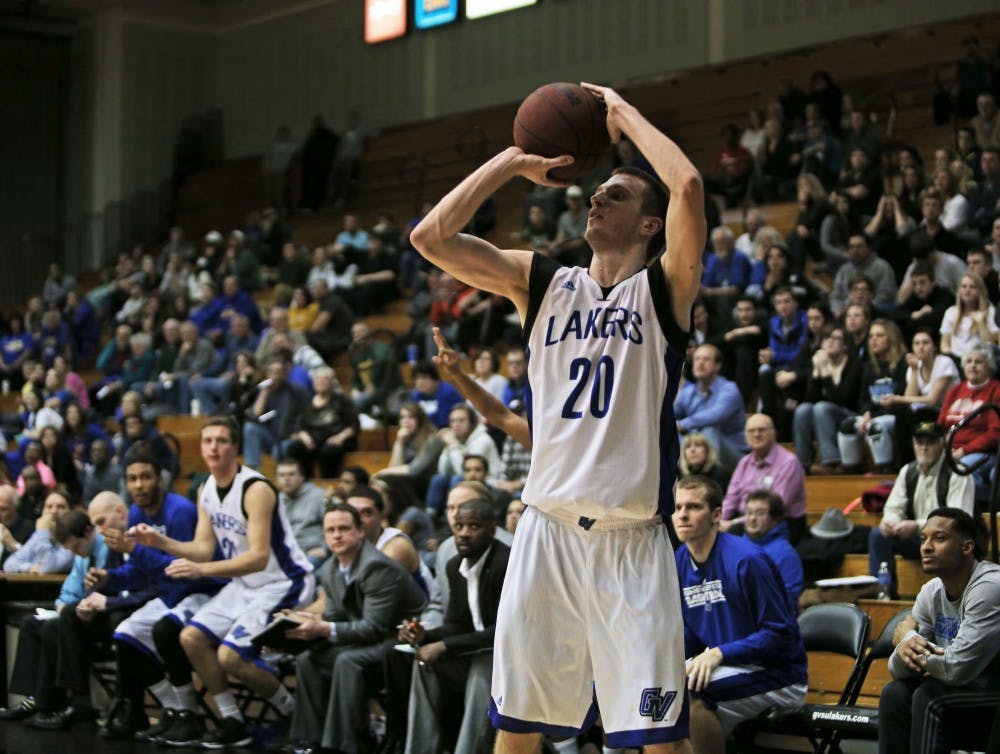 #20 Ryan Sabin
The Grand Valley State men's basketball team won't just be fighting for the final GLIAC Tournament seed when it travels to take on Ferris State inside Jim Wink Arena on Thursday night.
By beating the Bulldogs and getting a lot of help (losses from Hillsdale and Northwood and tiebreakers), the Lakers can extend the career of one of the most respected shooters in GVSU history, senior guard Ryan Sabin.
"He's been a tremendous player for four years," said GVSU coach Ric Wesley. "He was a good player from day one, and has certainly gone the extra mile in terms of putting time in the gym. Nobody shoots more than he does or works harder in the offseason.
"His stats, his records speak for themselves."
Sabin is on pace to close out his career as the top free-throw shooter in GVSU history, knocking down 219-of-255 career attempts (85.9 percent). This season, the Byron Center High School product also etched his name in the school record books by sinking 42 straight free throws, and his 92 percent clip currently ranks as the fifth highest among eligible NCAA Division II players.
But most of Sabin's damage has come from downtown. His 185 career 3-pointers are tied for the fourth most in school history, and he needs just three triples to move into a tie for third place.
Sabin didn't become a shooter overnight.
"I remember when I was coming in as a freshman I didn't know what to expect," said sophomore guard Luke Ryskamp. "We'd be done with long days of practice and we'd be leaving the gym and we'd see Sabin getting shots up. I was like, 'Man, he's getting shots up again?'...He just led by example by staying in the gym longer."
To this point in his career, Sabin has been part of a 14-13 team, a 19-9 team, a 19-8 team and a 13-14 team. He's also been part of a GLIAC All-Defensive Team, an All-GLIAC Second Team and an All-GLIAC First Team -- in addition to an All-GLIAC Academic Team and a Capital One Academic All-District Team.
"He's basically been the face of Grand Valley basketball for the last four years," said junior point guard Darren Kapustka. "As far as a student athlete goes, he's exactly what you want -- a player and a student. He's got like a 3.5 GPA and over 1,000 points scored -- a leader of this team.
"All the freshmen respect him immediately. They know he's doing the right things on and off the court, which is huge, and I think that's really helped our focus in the classroom as well as on the court...Just a phenomenal shooter, and an underrated passer I think."
Kapustka also said Sabin has made his mark as a clutch shooter.
Most recently, he hit a jumper with 28 seconds left in a 71-70 win at No. 24 Saginaw Valley State. The win helped to keep GVSU's slim GLIAC Tournament hopes alive.
Sabin has played in 104 of a possible 108 games during his career at GVSU, starting 94 games. He's been a durable, consistent scorer in the GVSU lineup -- and he'll been missed whenever the 2014-15 campaign comes to a close.
"Whether it's scoring, passing, defending or leading -- he's certainly done all those things," Wesley said. "He's certainly going to be a tremendous loss for our program."