Faculty tuba recital highlights unusual instrumental pairing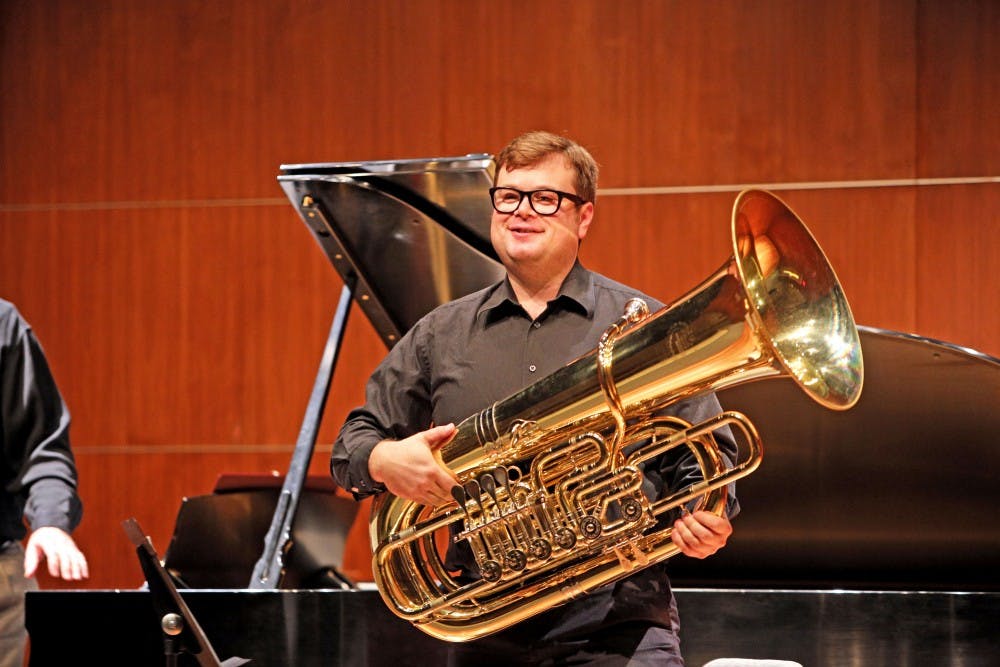 GVL / Emily Frye Dr. Paul Carlson, Affiliate Professor of Tuba and Euphonium at Grand Valley State University, takes a moment to acknowledge the audience before his performance on Oct. 8th. Dr. Carlson is currently touring the country performing clinics and concerts with the Dallas Brass and is well experienced performing on the global stage.
It is not often that a piano player and a tuba player team up to create a classical performance. An audience made up of Grand Valley State University students welcomed the unlikely pair of musicians on stage on Thursday with a round of applause. They nodded their heads, tapped their feet and swayed to the music created solely by a tuba and a piano.
"This performance is unique among others because it is uncommon to hear a tuba recital compared to the other brass instruments - particularly the trumpet," said Robert Byrens, the performing pianist at the recital and a GVSU affiliate faculty member.
Paul Carlson performed his tuba recital while collaborating with Byrens on the piano at the Sherman Van Solkema Recital Hall in the Performing Arts Center. However, this faculty tuba recital was only a preview of the performances that are coming soon to GVSU. Carlson's students will take the stage to perform their own recitals in just a few weeks for GVSU's fourth annual Octubafest. Octubafest consists of four student concerts featuring the tuba and euphonium studio at GVSU.
"Since these concerts feature my students, it's fun to play this recital this week to inspire them and show them a little of my playing that they probably haven't gotten to hear during our work during their lessons," Carlson said. "For the rest of the GV community, all of these recitals are a great way to experience what the tuba can do as an expressive instrument."
The Octubafest performances are being held on Oct. 28 at 7:30 p.m.; Nov. 1 at 3 p.m. and 7:30 p.m.; and Nov. 5 at 7:30 p.m. All performances will happen in the Sherman Van Solkema Recital Hall, located in the Performing Arts Center on the GVSU Allendale Campus.
Carlson said there is a lot of preparation involved for these kind of recitals.
"Since the tuba is the solo voice for the entire concert, there are a lot of notes to learn and a lot of music to prepare." Carlson said. "Professor Byrens and I have had a number of rehearsals to prepare. A recital is a collaborative effort since the music requires both musicians to bring their best and react to each other quickly and musically."
Both Carlson and Byrens serve GVSU as affiliate faculty members. Carlson is an affiliate professor of tuba and euphonium at GVSU, and Byrens currently serves as a collaborative pianist serving as a vocal coach. Carlson said that working around his busy schedule to prepare for the recital has been a challenge.
"It's also fun to push myself as a soloist to bring the best music possible to the GV audience," Carlson said. "The hardest part of this project has been finding practice time as I have a very busy teaching and performing schedule. It's been a lot of long days and late nights to get in the hours of preparation."
Byrens said it is a rare occasion when he collaborates with a tuba player, but it has been a rewarding experience working with Carlson.
"I've been concertizing as a collaborative pianist for over 40 years and have only shared the stage with a tubaist a handful of times," Byrens said. "We interpret the musical ideas with a similar approach so our collaboration is very gratifying."