GVSU hockey annihilates Ferris State
Schultz, Maddock lead Lakers to pair of dominating victories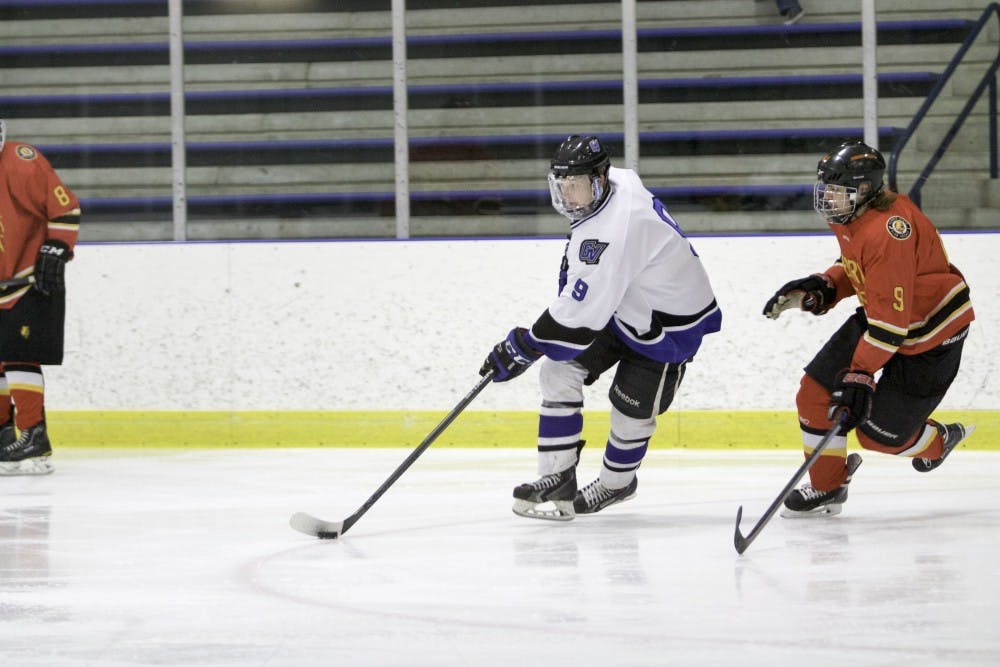 GVL / Sara Carte Grand Valley's DII Hockey player, Spencer Godin, keeps the puck away from Ferris State at Georgetown Ice Arena on Oct. 30.
The Division II Grand Valley State men's hockey club returned to winning form over the weekend, dominating Ferris State by scores of 8-0 and 13-2 in a home-and-away series.
Freshman goaltender Jared Maddock pitched a shutout in the series opener for the Lakers, marking GVSU's second straight shutout. All three GVSU goaltenders -- Maddock, Jiri Aberle and Spencer Craig -- have recorded shutouts this season.
"It was a combination of our defense and Ferris not having much offense," Maddock said. "Ferris couldn't get out of their own zone, most of the play was in their own end the whole weekend."
The GVSU defense made it an easy night for Maddock. The aggressive forecheck from the Lakers (12-1) stifled the FSU offense. The Laker defense allowed only eight shots on net, and held the Bulldogs to zero shots in the second period.
The Laker offense wasted no time lighting the lamp. Left winger Michael Bishop initiated the scoring, netting a power play goal after five minutes of play. The Lakers tacked on three more goals in the period to take a 4-0 lead.
Junior Alex Ostrowski scored early in the second period to give the Lakers a five-goal advantage. Ostrowski scored again in the third period to ice the game for GVSU.
GVSU spread the wealth on offense. Seven different Lakers finished the game with two points, and three more earned one point.
In game two of the series, Maddock played another strong game, allowing just two goals to secure the Lakers' 12th victory of the season
The Lakers lit up the scoreboard again. GVSU netted 13 goals, including hat tricks from Nick Schultz and Michael Bishop. Schultz also notched a hat trick against Southern Illinois University - Edwardsville earlier this season.
"(Ferris) didn't protect the front of the net very well," Schultz said. "We were able to find a lot of backdoor passes for tap-in goals."
Forward Troy Marrett added to the mix, scoring two goals of his own.
The Laker offense has been clicking on all cylinders in the last three games, having scored 30 total goals in the span.
GVSU is currently ranked second in the American Collegiate Hockey Association (ACHA) Central Division. After a weekend series against Toledo, the Lakers will be tested in consecutive weekends.
On Nov. 13 and 14, GVSU will play two away games against No. 4 Lindenwood University. The Lakers are undefeated on the road this year, boasting a 4-0 record.
The following weekend, GVSU will host Lindenwood University – Belleville, the first-place team in the Central Division.
GVSU will host the opening match of a two-game series against Toledo on Nov. 6 at the Georgetown Ice Center at 9 p.m. GVSU will then travel to Toledo on Nov. 7 to cap off the series.