GVSU senior corps leads talented team in rugby playoffs
Lakers will play Minnesota in Sweet 16 of men's rugby tournament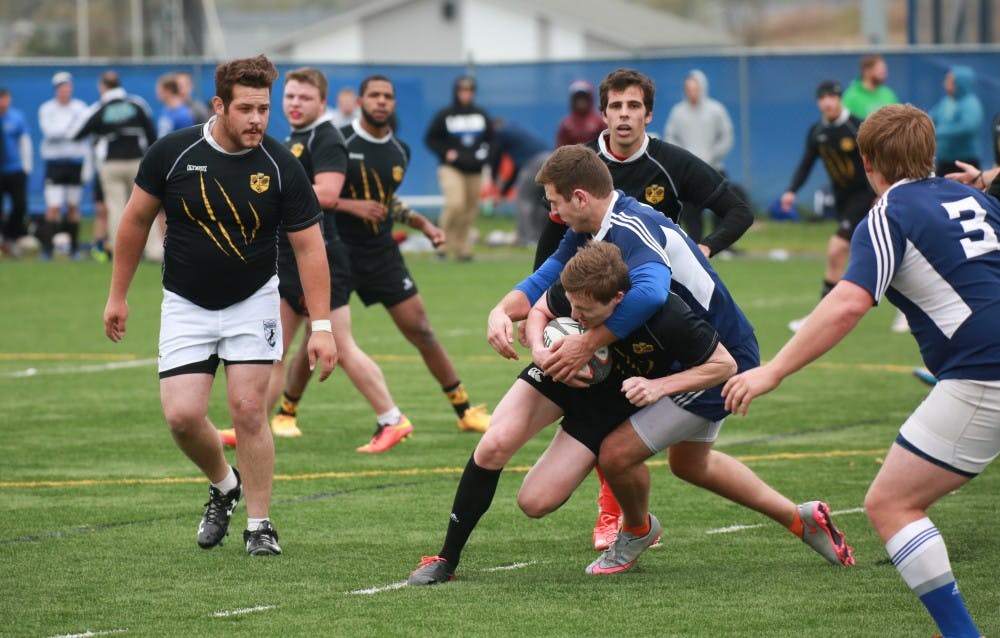 GVL / Kevin Sielaff - Grand Valley's club rugby team defeats Oakland University Oct. 3 in Allendale.
New England Patriots head coach Bill Belichick and the Grand Valley State men's rugby club share an idea. Belichick was the first to voice it, but its application is apparent for the 2015 Laker squad.
"There is an old saying about the strength of a wolf in a pack, and I think there is a lot of truth in that. On a team, it is not the strength of the individual players, but it is the strength of the unit and how they all function together."
Soon, the Lakers will send off their latest senior class – one that enjoyed copious amounts of success on the playing field, having gone 31-6 in four regular seasons, along with two Sweet 16 appearances.
But GVSU isn't done quite yet.
The Lakers roster features a listed 17 seniors, including Thomas Strandquist, Dylan Bergbower, Dallas Davis, Leo Pavletic and Jared Preston.
"Off the field and on the field, (all the seniors) are great. They're the core group of guys, kind of like the whole structural organization with the president, vice-president and captains. We all work together to formulate what we are," Strandquist said. "We're a player-led team. We have a coach, but behind the scenes it's mostly all player-ran. The leadership we have is a big bonus, and all the seniors contribute to that."
The Lakers went undefeated in the 2015 regular season and have already advanced to the Sweet 16 of the USA Rugby Men's Division II College National Tournament, after besting Northern Iowa 23-17.
Win or lose, the seniors already feel as if this year was their best.
"This year has been something special. I enjoyed my freshman year a lot. There weren't a lot of freshmen on the team, it was more of a big senior-loaded team like this year, and they kind of set the pathway to the way things were going to be and how they should be, the way we've played for the past four years. We've evolved into the team we are now. It's been awesome," said Bergbower, an inside center from Grandville, Michigan.
Scrumhalf Leo Pavletic played rugby at GVSU both this year and his junior season, but knew this year was something special.
"Both seasons we have been great. But...I took more of a leadership role this year, and our team is clicking on all cylinders even more so than last year," he said. "We have a higher ceiling and can make a run at the national championship. We made that our goal. That mindset is the difference between last year and this year."
However, it is not the success that the seniors will remember in the years following their rugby careers as Lakers, but the everlasting friendships that they have formed.
"The friends I've made are (what I'll remember). These guys were my core group of friends; every weekend going out together. I've met such a great group of guys and I know that's going to go on past college," Strandquist said.
It's hard to say, however, if the successes and bonds would have come to fruition without a coach who epitomizes what the team stands for.
"(John Mullett) is one of the best coaches I've ever had in my life. I've played almost every sport, and I think he's definitely one of the best," Pavletic said. "That comes from his playing experience, but I think the thing that really stands out about him to me is that he really cares about his players. We want to win a title, but it's really about personal development. Rugby is really about a brotherhood, a family and he really emphasizes (that)."
Bergbower, Pavletic and Strandquist all joined the team under different circumstances. Bergbower came to GVSU knowing he was going to play, no questions asked, and joined the team his freshman year. Strandquist played rugby as a kid but was unable to play after moving to Michigan from Indiana, so he moved on to different sports before picking rugby back up in college.
Pavletic played in his junior and senior years of both high school and college.
Strandquist anticipates he'll graduate this spring and jump into the business world with his operations management degree and search for a management position.
Bergbower looks to graduate in the coming summer or next fall before putting his accounting degree to work, but says he'll only be around for a few years before heading out and exploring the country.
Pavletic was proud to say that he has already accepted a full-time job with a consulting firm in Chicago, and he anticipates playing with the Chicago Lions Rugby Club.
However, before jumping into the real world, the Lakers have some more work to do in the tournament, and judging by their confident demeanor, they could be going far.
"Never play scared," Bergbower said. "You might be playing guys who are better than you, but you can outwork them."
The Lakers will square off against national powerhouse Minnesota-Duluth on Saturday afternoon. If GVSU pulls off the upset, it will advance to the quarterfinals on Sunday.