Career role-player emerges as scoring option for GVSU hockey
Schultz has put up 14 goals, two hat tricks in 2015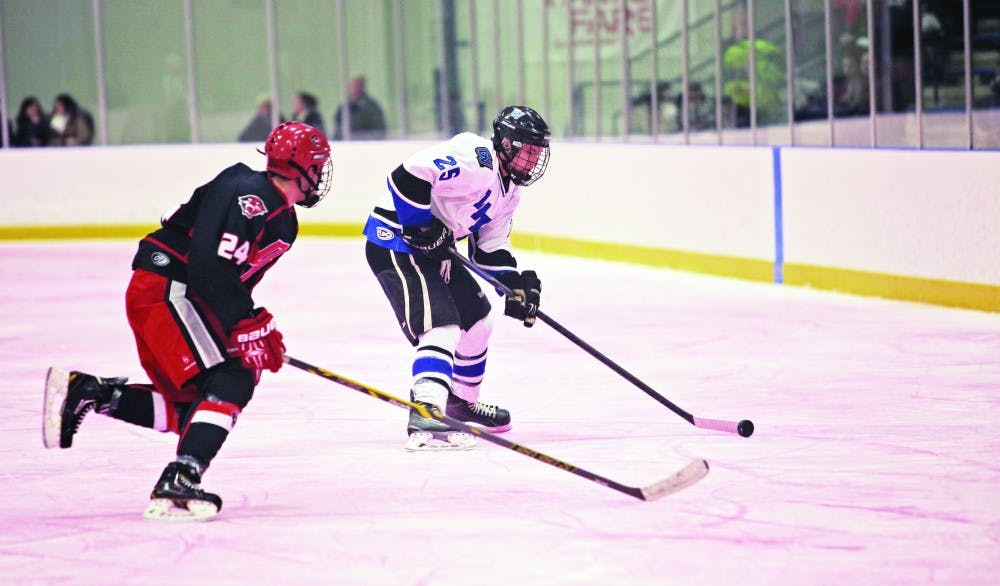 GVL/Kevin Sielaff #25 Nick Shultz
The frozen pond is a place where many young hockey players imagine scoring hat tricks and winning championships. At 5 years old, Nick Schultz got his start in hockey on the pond, playing with his older brothers.
Schultz no longer needs to use his imagination. The senior forward is putting his years of practice into fruition, scoring at a high rate for the Grand Valley State Division II hockey club.
"I wouldn't consider myself a scorer, I'm just going to ride the streak while I can," Schultz said. "I am benefitting from solid guys around me. My linemates are great and we all compliment each other really well."
Schultz has never been known as a pure scorer with GVSU (13-1-1). He was viewed as a role-filler, someone who does what the team needs him to do before focusing on himself and his individual stats.
In high school, Schultz played for Saint Claire Shores Unified -- a high school hockey club. There, Schultz was known for putting the puck in the back of the net.
When a few defensemen went down with injuries, however, Schultz transferred from forward to defense to give the team a better chance of winning. This unselfish attitude has helped Schultz excel into the player he is today.
In his fourth year on the GVSU Division II squad, Schultz is putting up career numbers. In 15 games, Schultz has notched 14 goals, including two hat tricks and nine assists, failing to score a goal in only four games this season. His 14 goals already surpass his 2014-15 season total of 10 goals and leads the Lakers.
As a result, Schultz is playing with more confidence than he ever has in a GVSU uniform.
"He has always been a hard worker, but is now playing with more confidence than I have seen previously," said team captain Zac Strain, who has played with Schultz all four seasons. "This confidence is leading to not only points for himself, but for those on the ice with him."
Schultz and his linemates, Alex Ostrowski and Mitch Claggett, have played off each other's strengths. Claggett and Ostrowski have been able to find Schultz on the ice, where he has buried the puck in the net when opportunities arise.
"He has been in the right places in the right times and he is working well with his linemates," said defenseman Reede Burnett, who has played with Schultz for two years.
The Lakers have started the season red-hot. GVSU has won 13 of 15 games, with an average margin of victory of more than five goals.
After the team's only loss to Southern Illinois University Edwardsville, Laker head coach Mike Forbes made adjustments to the lines. Since then, the offensive production has exploded. In the five games following the adjustments, the Lakers have scored 37 goals.
"All the lines seem to be gelling after that Southern Illinois game," Schultz said. "Ever since then, no one can seem to really stop us. We have a balanced team and a lot of depth."
The offense emphasizes putting the puck on net, a strategy that has worked well this season.
"We are getting the dirty goals that win hockey games," Strain said. "There have been a couple games already where we have had over 70 shots. When this happens, you are bound to get a few, even on the hottest goalies."
Schultz and the offense will look to continue the production with the toughest part of their schedule upcoming. The Lakers will play Lindenwood and Lindenwood – Belleville, two of the top three teams in the region in the coming weeks.