330-year-old violin granted to GVSU professor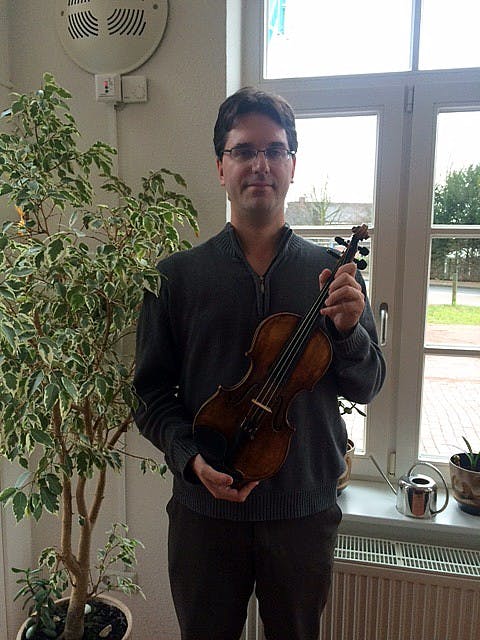 GVL / Courtesy Gregory Maytan
Loaned a violin that was crafted more than 330 years ago, Grand Valley State University associate violin professor Gregory Maytan has been awarded a unique honor while on sabbatical. Maytan went through a formal and competitive application process before the Swedish Järnåker Foundation chose him to receive the loan of this instrument.
Department chair of the music department, Danny Phipps, said staying active as a performer is important for GVSU music faculty so they can teach their students how to be active performers.
"Music is not like many disciplines at the university level, there's a certain vocational aspect to it," Phipps said. "Any time we have an opportunity for (student) musicians to interact, to hear, or to be part of in a vocational way what they're going to do for their career, it complements their studies. (The faculty) remain current as performers, as well as, as teachers because that completes that type of training of music that is almost like an apprenticeship, even though it's not."
Maytan said this experience has inspired him as a musician and he hopes that by hearing the violin through his lessons, his students will find inspiration in it as well.
"Besides keeping me inspired when playing, the violin teaches me about sensitivity, beauty, boldness and many other such qualities," Maytan said. "I believe that it is actually helping me grow as a performer and as a musician. One of the most important qualities of a good teacher is to be able to inspire the student."
Giovanni Grancino, a violin maker from Milan, created the violin loaned to Maytan. Grancino was born in 1637 and died 1709. He is known for creating violins in the style of Nicola Amati, a famous violin maker, Phipps said. He also said instruments played by Grancino are used in many orchestras today.
If Maytan is able to continue to use the instrument upon his return to GVSU, it would provide useful experience for GVSU students.
"This is a great honor and this is a beautiful instrument," Phipps said. "While it may not be a (Stradivarius) or Guarneri, this an instrument of exceptional value and beauty. It will be a terrific opportunity for our students to be close to an instrument that is as well-made and with such a beautiful sound quality as these instruments have."
Maytan said he has been able to experience the beautiful sound quality of this instrument.
"The violin is very easy to play and responds beautifully to my way of playing," Maytan said. "It has already become my 'voice', and being able to have it on stage with me has really added to my sense of confidence. I would say that the beauty and maturity of the sound is what sets it apart from many other violins I have played on."
During his sabbatical, Maytan said he is going to use this time to tour with the violin. In order to apply to receive the violin for another year from the Järnåker Foundation Maytan must remain an active as a performer. He will return to Michigan in March to perform the Sibelius Violin Concerto with the Kalamazoo Philharmonia and hopes to bring the instrument back to GVSU.
"I will be playing, practicing and performing on it as much as possible," Maytan said. "I will also be using it to record a CD in June, as well as for many other concerts and tours in Sweden and the U.S. My ambition is also to present a lecture to my students about the violin, as well as older Italian violins in general, when I return to GVSU."