A cappella concert brings holiday cheer to campus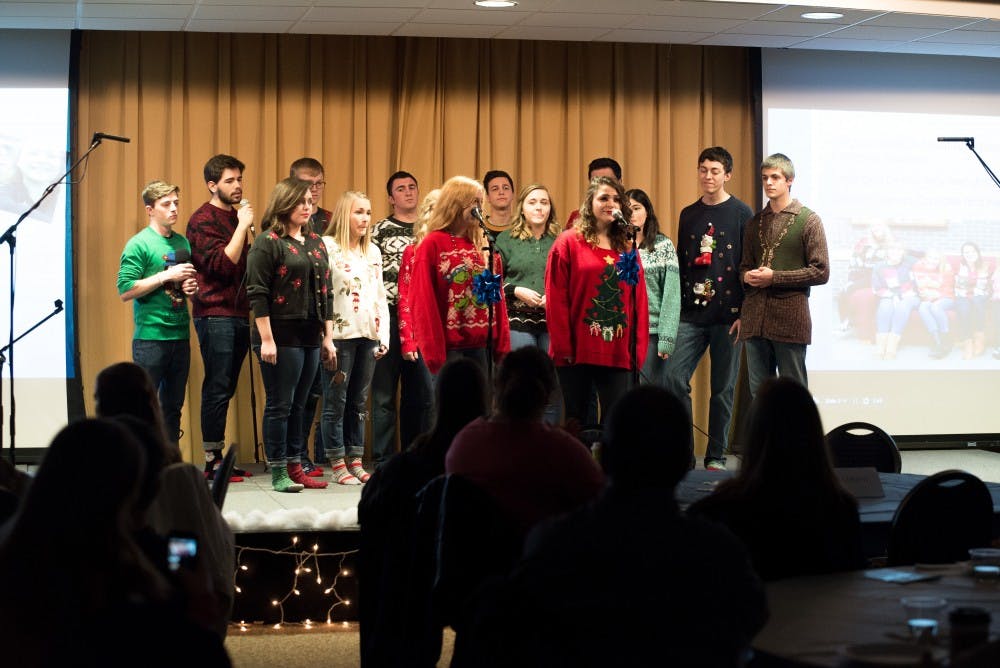 GVL/Luke Holmes The A Capella group "GV Groove" hosted their Ugly Christmas Sweater Concert in the Grand River Room of Kirkhof Dec. 5.
Grand Valley State University's very own GrooVe! put their own twist on the average holiday concert with ugly Christmas sweaters on Dec. 5.
The holiday performance featured the vocalists of the group without any instrumental accompaniment creating the beat, melody and harmony to classic and contemporary music.
GrooVe! utilizes a soloist or duet with the rest of the members providing the background harmony while one or two members create a steady rhythm by beatboxing.
GrooVe! has been the university's premier co-ed a cappella group since 2009 and has performed at the Mrs. Michigan pageant, Grand Rapids Children's Museum and various other sites around Michigan.
"The (ugly sweater) theme has been a tradition of GrooVe!," said Kelli Nemetz, president of the 15-member group. "We like to keep it the same each fall not only for tradition, but recognizability."
GrooVe! members work together to create a performance of the song that is unique to the group.
"All of our music this semester has been arranged by a member in the group and all the songs have separate arrangers," Nemetz said. "We take real pride in that."
Nemetz said that keeping energy up is easy when each performance is so fun.
"My favorite part is when we all run it through for the first time," she said. "It is crazy and almost like magic when you hear all of these individual, weird syllables come together and form this amazing, complex song. It's an amazing feeling."
Opening the first and second act for GrooVe! was Central Michigan University's first ever all-female a cappella group named On the Rox. The group was originally founded in 2006 and has been competing in the International Championship of Collegiate A Capella competition for the last three years.
GrooVe! performed vocal numbers that were arranged from a variety of musicians from the music of Backstreet Boys and N*Sync – and the popular corresponding choreography - to "Welcome to the Black Parade" by My Chemical Romance.
"I thought it was beautiful," said freshman Shelby Szudera Wienand. "I thought they had a really good variety of songs."
For more information on GrooVe! and their future events, go to www.gvgroove.com or follow them on Facebook.