A Cappella Off raises money for local groups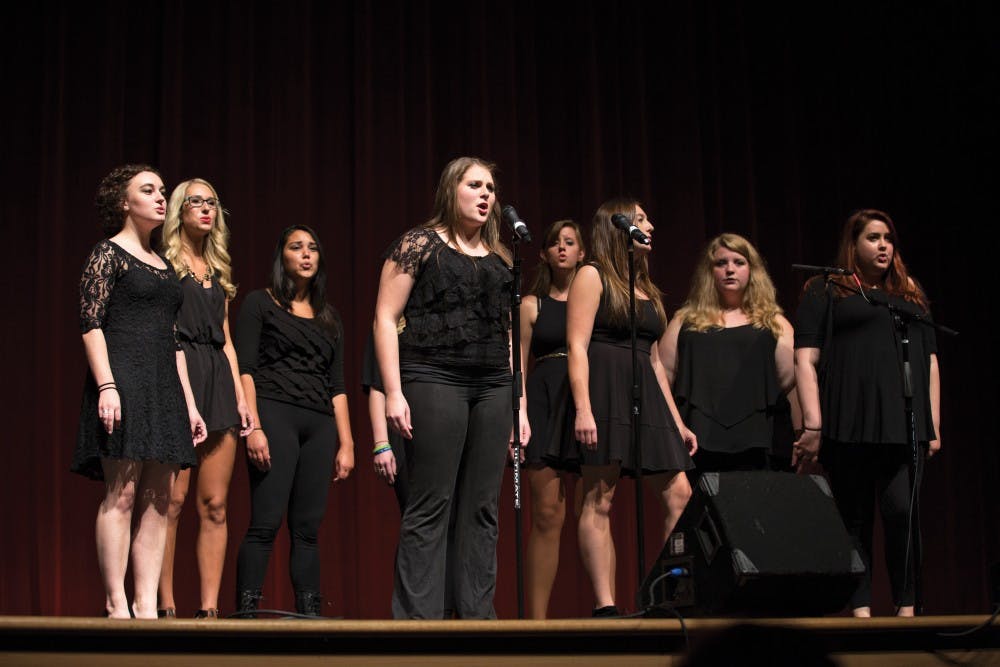 GVL / Kevin Sielaff Grand Valley's a Midnight Snack opens for the Cat's Pajamas Sept 18.
A unique competition is bringing talented college students from all over Midwest Michigan together in Allendale. A cappella groups from Grand Valley State University, Central Michigan University, Michigan State University and many more will be performing and competing to help raise money for two different causes while brining entertainment to Allendale.
Rachel Xydis, music director of GVSU's a cappella group Midnight Snack, is looking forward to the sixth annual A Cappell-Off because it is an event that she is familiar with and she enjoys that the money goes towards helping others.
"We have our format and we know how the event should run," Xydis said. "Also, the proceeds go to help high school kids pursue their love of music, which I think is really great. (The event) is really enjoyable and it goes to a great cause."
The A Cappell-Off will be held on Jan. 16 at Allendale High School. The competition will begin at 7 p.m. and doors will open at 6:30 p.m. Proceeds from this event will be split between the Allendale High School's Fine Arts Center and GVSU's Mu Alpha Chapter of Sigma Alpha Iota.
All four of GVSU's a cappella groups will be competing in the A Cappell-Off: Midnight Snack, GV GrooVe, After School Special and Euphoria. Xydis said that there will be a wide range of music genres performed at the competition. Midnight Snack will be performing songs from a variety of artists such as Amy Winehouse and Meghan Trainor.
"A cappella music is cool because it's your everyday music that you listen to, but performed in a completely new and different format," Xydis said.
Jim Crawley, the co-coordinator at Allendale High School, said that the planning for this event was split up between himself and the sisters of SAI. Six years ago, Crawley and SAI teamed up to create this local a cappella competition. The event now serves as one of SAI's largest fundraisers of the year.
Xydis said that the preparation for the A Cappell-Off begins in August with an initial invitation sent out to more than 80 groups in the area. From there it is decided what kind of planning needs to be done based on the response they receive.
"(The audience) gets to hear not only the groups from Grand Valley, but also a number of other college groups," Crawley said. "We're providing some great talent and a lot of fun and energy. It's a great way to kick off the first weekend of (the winter semester)."
Crawley said that this a cappella competition is the only one on the west side of the state. Bringing in new and different groups, he said, is a great way to expose the community to this style of music and performing as well as inspire students who are interested in a cappella.
Last year the A Cappell-Off was close to selling out. Crawley said that if the turnout is anything like it was last year, they will seat close to 800 people. He recommends buying tickets early either by stopping in to Allendale High School or calling and reserving them with a credit card. Tickets cost $10 for adults and $5 for students and seniors. For more information, visit www.gvsu.edu/events/a-cappell-off-3/.