Philanthropist Ralph Hauenstein, 103, passes away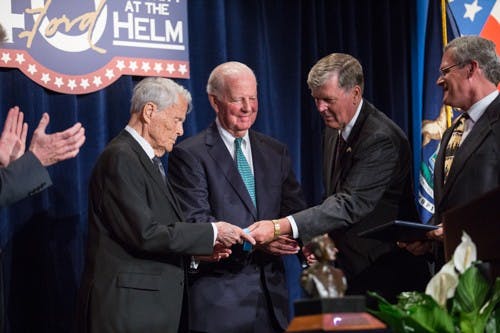 GVL / Courtesy - University Communications Ralph W. Hauenstein (left) awards former U.S. Secretary of State James Baker with the Col. Ralph W. Hauenstein Fellowship award June 14, 2014 at the Amyway Grand Hotel in Grand Rapids.
Ralph Hauenstein, a 103-year-old philanthropist and businessman vital to the Grand Rapids community passed away on Jan. 10.
Hauenstein is best known at Grand Valley State University as the founder and inspiration behind the Hauenstein Center for Presidential Studies, which was modeled after his life of leadership and service.
Hauenstein was born in Fort Wayne, Indiana, in 1912. He moved to Grand Rapids early in life and lived there ever since. When he was 23, Hauenstein joined the U.S. Army and actively served two and a half years before coming back to Grand Rapids and becoming the city editor of the Grand Rapids Herald.
In December 1940, Hauenstein returned to active duty and during World War II, he became a colonel and served under General Dwight D. Eisenhower as chief of the intelligence branch in the U.S. Army's European Theater of Operations.
After his experience of the destruction of war, Hauenstein strived to work for better international relations and peaceful solutions to conflict.
Hauenstein returned to Grand Rapids and began a lifelong career in philanthropy. From underwriting a modern bakery in Haiti, providing jobs for hundreds of workers, to setting up a school in Florida to teach people from developing countries how to run businesses, Hauenstein sought to help those of all walks of life.
Hauenstein also served as a consultant on the President's Advisory Commission, as an auditor at the Second Vatican Council in Rome and was part of the team that supervised the first free elections in Russia with the Jamestown Foundation.
Grand Rapids has been thoroughly impacted by Hauenstein's charitable contributions. Aquinas College is home to the Grace Hauenstein Library, a library that was primarily funded by Hauenstein's own donations. Hauenstein also focused on the field of medicine, contributing $2 million to Saint Mary's Health Care to jump start the creation of the Hauenstein Parkinson's Center. He was one of three board members who established the Van Andel Institute for Medical Research.
Hauenstein's accomplishments are vast and leave an impression on many parts of the world. The Lanthorn staff acknowledges his impact on our campus and extend our deepest condolences to the Hauenstein family.