GVSU men's basketball graduate assistant promoted to assistant coach
Former Laker player J.R. Wallace looks to replace longtime assistant Jeff Bauer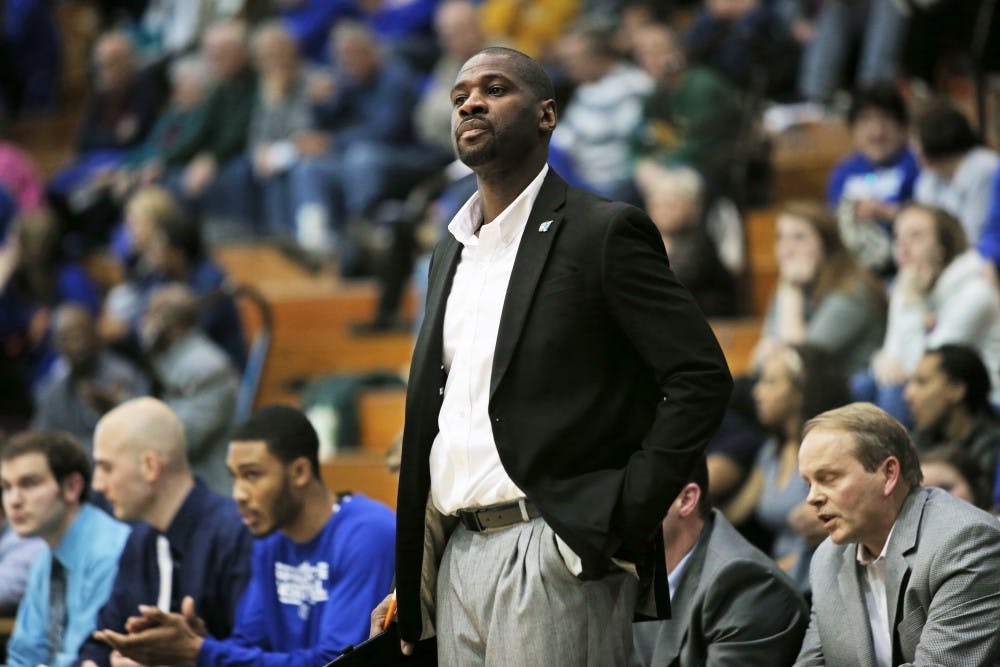 GVL/Kevin Sielaff Assistant coach J.R. Wallace on Jan 22, 2015 inside of the Fieldhouse Arena.
For the past two years, J.R. Wallace has been a graduate assistant for the Grand Valley State men's basketball team. Recently, he has been promoted to one of two assistant coaches alongside head coach Ric Wesley.
"I feel good because there's unfinished business to be done," Wallace said. "I get an opportunity some place else, it's like you leave with a sour taste in your mouth because you didn't do as well as you wanted to do."
Wallace will replace longtime assistant coach Jeff Bauer, who took a job as the head basketball coach at West Ottawa.
In the last two years when Wallace was a graduate assistant, he helped the Lakers reach an overall record of 31-26, including an 18-11 mark in 2015-16. The Lakers also had three All-GLIAC selections and two players voted to the GLIAC All-Defensive Team.
"Now that's my challenge," Wallace said. "I felt like I get an opportunity, I get another season to do it right."
From graduate assistant to full-time assistant coach, Wallace has more responsibilities.
"He is involved with all aspects of our program," Wesley said. "Game and practice planning, individual workouts, academic mentoring, as well as strength and conditioning."
Wesley knew of Wallace before he came to GVSU, having coached his brothers, Jerry and Marcus.
"In addition to being a great person, he had a reputation as a hardworking, passionate player," Wesley said. "I saw a lot of that same passion in him when he was on the sidelines coaching."
However, Wallace didn't just come to GVSU to coach. He completed his undergraduate degree at GVSU in 2013 and recently received his master's degree in May.
Wallace isn't the only assistant coach for the team. Taylor Johnson was also recently hired and is ready to work alongside Wallace.
"I think it will be great," Johnson said. "He kind of knows the ins and outs of the university a little bit better than me, and I think I can bring some different stuff, being from the ACC (while an assistant at North Carolina State), so there's a lot of things that I think we'll be able to contribute."
For Wallace, it's not just about basketball either.
"He's a high academic guy, he takes that just as seriously as basketball if not more," Johnson said. "You won't find another guy who really cares about academics more than coach Wallace."
For this upcoming season, with a roster of 17 players, 11 are returning, including two starters.
"We have some really great leaders in Trevin Alexander and Luke Ryskamp," Wallace said. "They both lead in their own way: Trevin's a little more vocal, Luke's a little more lead-by-example, so their mixture together is really good."
As the season gets closer, Wallace hopes the team can come together.
"I see us being a close-knit team as well as a team that plays with a chip on their shoulder and understanding that we are in a great location here in Grand Rapids," Wallace said. "We have a great university and we need to embody that."
When it comes to Wallace's coaching style, he hopes to have an impact on them even after college.
"You have to prove yourself every day and I like the correlation between that and life," Wallace said. "When they leave here and basketball is done, it's what are you going to prove every day."
The home opener for the men's basketball team will be on Wednesday, Nov. 16 against Great Lakes Christian.