GVSU defense smothers Truman State 41-3
The Lakers forced three turnovers in the first quarter alone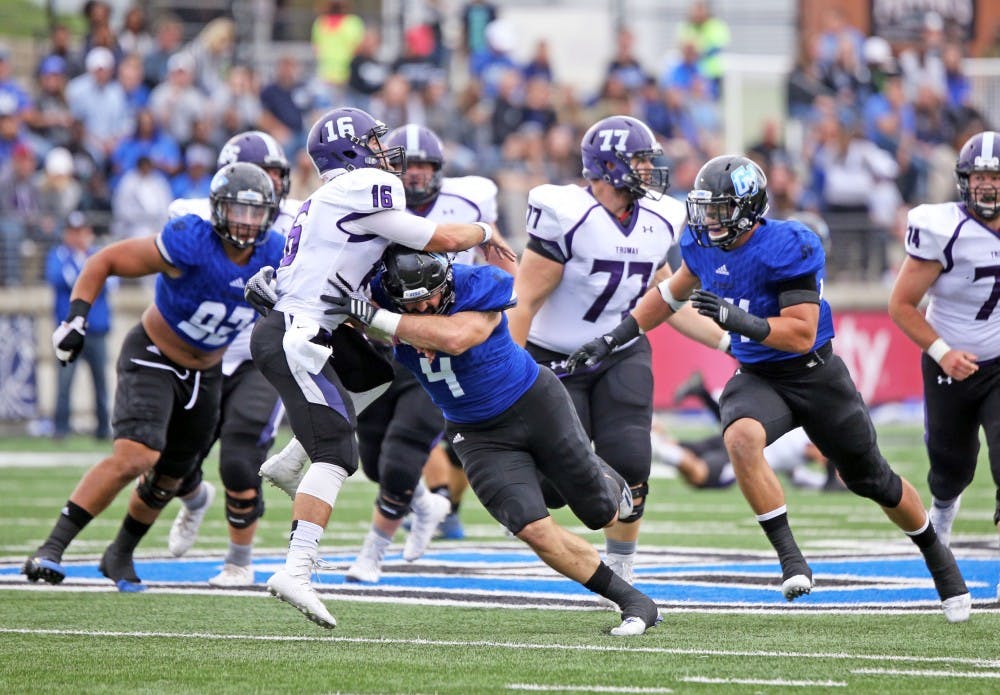 GVL / Emily Frye Alton Voss sacks the Truman State quarterback on Saturday Oct. 15, 2016.
At 6'4" and 300 pounds, Grand Valley State senior nose tackle Mark Rosenquist is not a defensive back by trade, but the big lineman did his best impression this past weekend.
Rosenquist intercepted a tipped pass on the first defensive drive of the game and highlighted an impressive performance in the No. 2 ranked Lakers' 41-3 win over the unranked Truman state Bulldogs Saturday, Oct. 15.
Football vs. Truman State
View Full Gallery
"He threw the ball, I turned around and all of a sudden the ball was in my hands," Rosenquist said. "The first thing I was thinking was, 'what do I do now?'"
Asked if that was the first time in a while he had the ball in his hands, Rosenquist was honest.
"Man, that was the first time ever," he said.
The Lakers improved to 7-0 (6-0 GLIAC), while the Bulldogs fell to 5-2 (4-0 GLVC). The Lakers have sole possession of first place in the GLIAC North and are the only undefeated team left in the conference.
The Bulldogs' first three possessions resulted in turnovers that led to eventual GVSU touchdowns. The Bulldogs had only 84 yards (34 plays) of offense at halftime, compared to the Lakers' 320 on 37 plays. For the game, GVSU outgained the Bulldogs 522-127.
The defensive performance was a step up for a team that allowed 570 yards to Ferris State last week.
GVSU has outscored its opponents 196-9 in the first half of games this season.
"It's exciting that we can be victorious 41-3 and outgain them the way we did, and I still feel like we can be better," said GVSU coach Matt Mitchell. "This team has the potential to be better."
Shortly after Rosenquist's pick, GVSU linebacker Joe Moran made a diving interception on the Bulldogs' second possession of the game.
Already leading 14-0 early, Laker freshman defensive back Isaiah Nkansah blocked a punt deep in Bulldog territory, and sophomore running back Jalen Bryant returned the ball six yards to the end zone for an early 21-0 lead.
The first two GVSU touchdowns came courtesy of running back Martayveus Carter on runs of 20 and 38 yards, respectively.
In the second quarter, GVSU quarterback Bart Williams lofted a pass 30 yards down the right sideline into the bread basket of receiver Nick Dodson for a touchdown, reminiscent of the pair's game-sealing score against Ferris State.
Dodson led all receivers with five catches for 120 yards and two touchdowns, including a 59-yard screen pass to the house in the third quarter.
In the last two weeks combined, Dodson has nine catches for 212 yards and three touchdowns—numbers that he says would not be possible without his teammates.
"It's really just the play-calling and Bart (Williams) being able to deliver," Dodson said. "On the screen play that I was able to break free on, the O-line did a great job of clearing everyone out. I saw no one in front of me, so it really just starts with the guys up front helping me out."
The Lakers led 34-0 at halftime. Kicker Joel Schipper went 2-for-2 on field goals in the first half, a 51-yarder in the first quarter and a 34-yarder in the second. Dodson's 59-yard screen pass was the only score in the second half for the Lakers. The starters were pulled near the end of the third quarter.
Bart Williams finished 14-for-24 for 279 yards and two touchdowns. Carter led all rushers with 107 yards on 13 carries and two touchdowns. Collin Schlosser led all defenders with 10 total tackles. Dylan Carroll (1.5), Rahju Blackmon (one) and Keane Belcher (0.5) combined for three sacks.
Bulldog freshman quarterback Jaden Barr was unable to operate in an offense that was consistently bested at the line of scrimmage by the GVSU defensive front.
Barr had his worst statistical performance to date at 10-for-24 with 100 yards, the two first-quarter interceptions and was sacked three times. Bulldog running back Jordan Salima amassed only 18 yards on 12 carries, while Barr netted minus-three yards.
GVSU inducted six new members into the Laker Athletics Hall of Fame at halftime: Julia Braseth (women's basketball), Icis Charles (track and field), Sue Christenson (women's soccer), Jason Jamerson (men's basketball), Brent Lesniak (football) and Melissa Slager (softball).
Next week, the Lakers hit the road and play Hillsdale (3-3, 2-3 GLIAC) Saturday, Oct. 22, with a 2:30 p.m. kickoff.