GVSU panel examines impact of police brutality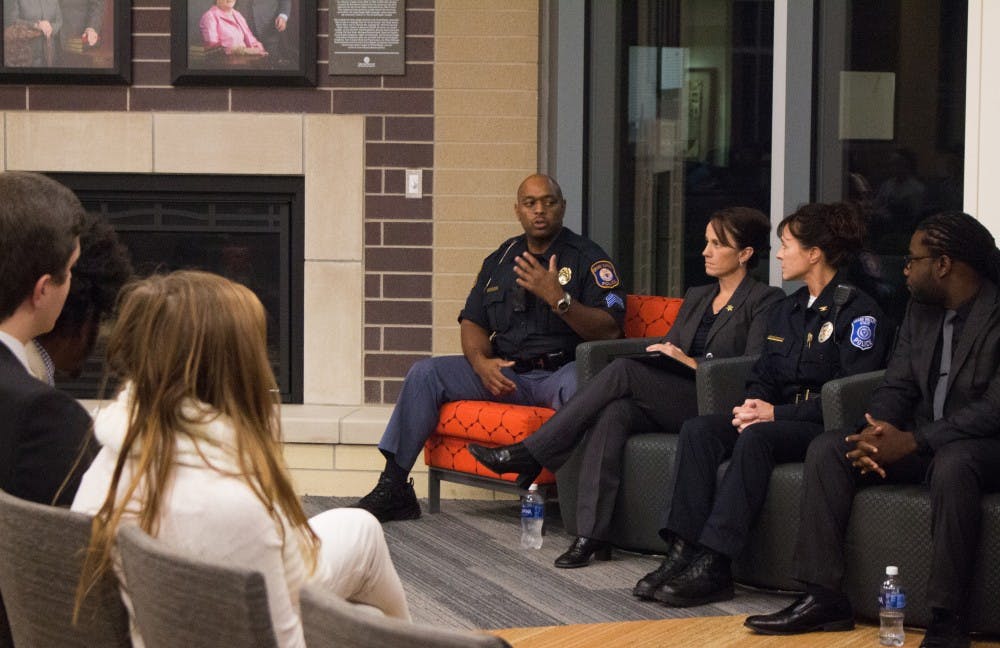 GVL/Mackenzie Bush - Sgt. Terry Dixon (far left) answers a question at the police brutality panel discussion Thursday, October 20 in Hilton Hooker Living and Learning Center
To discuss the issue of police brutality and its impact on the Grand Valley State University community and beyond, GVSU's student senate hosted a panel discussion with police officers and civilians Thursday, Oct. 20.
The panel consisted of representatives from the GVSU Police Department, the Ottawa County Sheriff's Office, the Grand Rapids Police Department, and the GVSU student body and faculty.
"I wanted this to be an opportunity for students, faculty and staff to get together and discuss the issue and see what we can do specifically in our communities to make a change," said Brandon Fitzgerald, student senate vice president for diversity affairs. "I really hope this was the first step."
The panelists talked about a number of factors that could contribute to police brutality, particularly implicit bias and a lack of healthy communication between police and civilians, and what is being done to address these issues.
"The pathway for communication is so narrow," said Brianna Pannell, a member of GVSU's Black Student Union. "I think if we have healthy communication, (a) lot of issues that happen with police brutality (will be solved)."
GVPD Chief Renee Freeman described the different efforts the GVPD is making to train its staff to combat implicit bias and to connect personally with the GVSU community.
"(We) participate in training (for) cultural diversity, cultural competence, the implicit bias," Freeman said. "We have community police officers that I expect (to) spend time in the student life areas (interacting) with people, letting them have a voice in what we're doing and how we're interacting with them.
"I do tell our community that we are about enforcement, but not just enforcement. We're about building relationships and creating a great experience here. We want to fit into the educational blueprint."
Louis Moore, a GVSU history professor and the coordinator for African/African-American studies, said it will take time to counteract centuries of racial policing.
"You could have a lot of training, but you're also going up against history, American history," Moore said. "It's going to take more than a couple years. (We're) off to a good start right now, given the fact that this has been going on for hundreds of years. (I) think that's going to be the hardest thing that we combat—it's the idea that black people aren't inherent criminals."
Relando Thompkins-Jones, the social justice educator of the GVSU Division of Inclusion and Equity, said the conversation about police brutality is too frequently centered on what people of color can do to prevent violence against themselves. He likened this reasoning to telling women their clothing choices could attract assault.
"The onus and the responsibility is so often put on people who are on the receiving end of this brutality," Thompkins-Jones said.
The panelists also discussed the fear people of color experience when they are pulled over by police and the different precautions they take to help protect themselves: making sure their necessary documents are out in the open, their hands are on the steering wheel and their windows are down, for example.
Pannell said some police went beyond requiring respect from people of color to demanding and facilitating fear.
"I just feel that fear and respect are often confused," Thompkins-Jones said. "And when that fear is challenged—'Oh, I don't consent to searches'—that can be a challenge as well at times."
The police officers at the panel expressed their personal commitments to facilitating positive relationships with civilians.
"I have a genuine desire to learn, to do better," Freeman said. "And I am invested in this community as the chief of police, and I want to effect change. (I) don't want to be part of the problem."