GVSU women's basketball tops Rochester 86-46
The Lakers held the Warriors to 32 percent from the field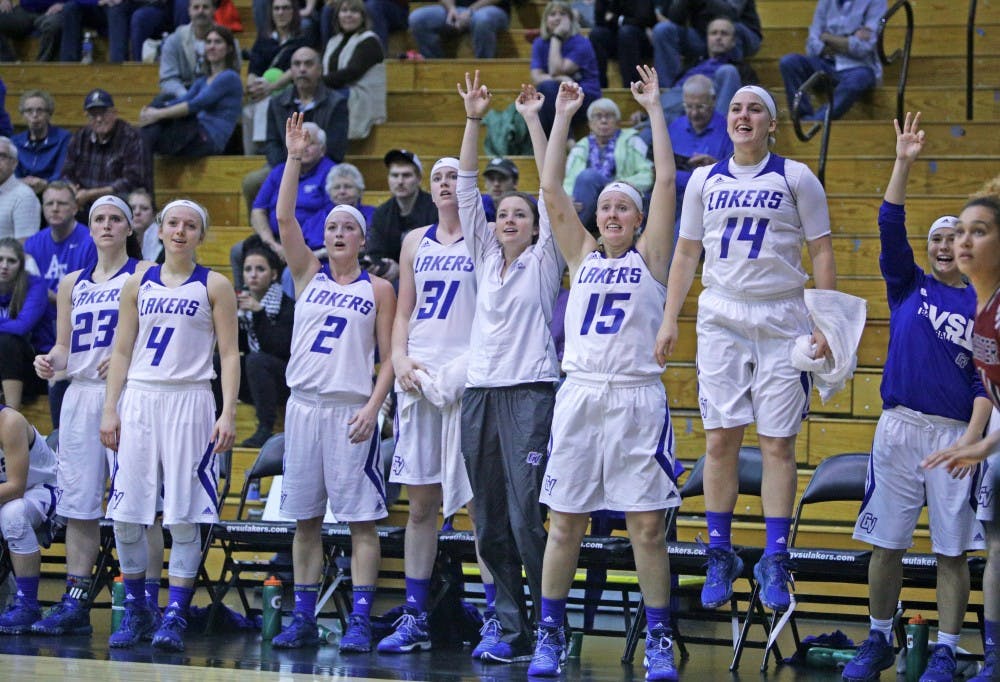 GVL / Emily Frye Grand Valley State University agaisnt Rochester College on Friday Nov. 18, 2016
After coming off a tough 74-69 loss to Truman State Sunday, Nov. 13, the Grand Valley State women's basketball team needed to bring its A-game against Rochester College (5-6) to regain its spark.
And the Lakers answered with high energy, forcing 26 turnovers and holding the Rochester Warriors to 32 percent from the field to grab a dominating 86-46 home victory Friday, Nov. 18.
GVSU coach Mike Williams praised his team's nonstop effort on both ends of the floor.
"We really challenged them to pressure the ball more, hunt for better shots, and to play consistent on offense and defense, and I think they did all of that tonight," Williams said.
Junior three-point specialist Lindsay Baker came off the bench and shot the lights out, hitting five 3-pointers to lead all players with 17 points while adding two steals.
The Lakers opened regulation with two straight 3-pointers, and never looked back, holding the lead until the final buzzer. A major reason was the Lakers' stifling defense forcing turnovers into easy transition buckets.
Senior forward Piper Tucker led the Lakers' transition, finishing the game 7-for-10 from the field for 16 points and four rebounds.
"Piper ran the floor and really excelled in transition to get her buckets," Williams said. "She's so versatile because she's a kid that is very dangerous inside and outside the three-point line."
After the first half, the Lakers led 41-16, holding the Warriors to a dangerously low 20 percent from the field, led by GVSU's energized on-ball defense.
"Coach always talks about bringing high intensity and I think that helped us out," Tucker said. "We really worked as a team to stay close and help each other out. In transition, we worked hard by getting them out of position and taking advantage of that."
Although her game statistics didn't jump off the page, senior guard Taylor Lutz was the spark plug for the Lakers with relentless effort to create transition opportunities by tight on-ball defense and break-starting passing. Lutz finished with eight points, four assists, two steals and three rebounds.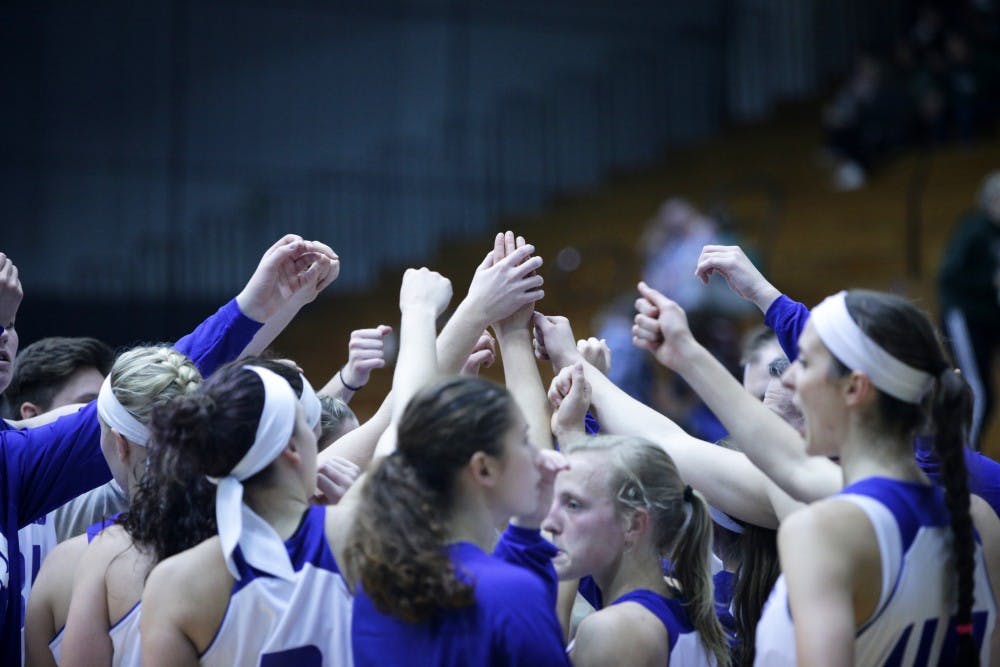 "She's our glue kid because she does everything and puts the ball where it needs to go," Williams said. "If you don't understand basketball, you wouldn't really notice her, but she's the spark to this team. Defensively, she's always in the right spot and takes the right shots."
Lutz gave her team a lot of credit for bouncing back positively after a loss and bringing a much-needed energy.
"It was a good win and much needed after a close loss to Truman State," Lutz said. "We needed to go out and play our game and everyone did that tonight. We ran the floor and seemed to get our confidence back."
Although the score appeared very lopsided, the GVSU players' consensus said the score did not reflect Rochester's efforts.
"Rochester brought some things that we have never seen before, but I was proud of how we handled it so well," Tucker said. "The score didn't say so, but they were a good team."
GVSU (2-1) travels to Puerto Rico to play top-ranked Indianapolis (3-1) Friday, Nov. 25 at 11 p.m.
"Moving forward, we need to focus on being more consistent, which will definitely be needed against a tough Indianapolis squad," Williams said.