A sense of community
GV, Allendale Township should collaborate on more issues, initiatives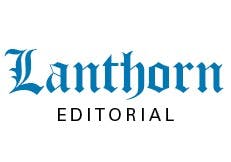 Oftentimes, construction projects get stalled along the way due to technicalities, financial requirements and personal politics. We understand many people and permissions are necessary to complete large projects, such as the light installation on 48th Avenue, and we believe there is an important message to take away from the collaboration seen throughout this project.
Though the construction along 48th is technically not within Grand Valley State University's jurisdiction, in order to move the process along, the university split some of the costs of the installation project with Consumers Energy to increase safety along the busy stretch of road. Had Allendale Township contributed, more lights may have gone up and this could have been a great example of where the future relationship of Allendale Township and GVSU should go. Regardless, the pushing and collaborative attitude adopted by GVSU resulted in a very necessary project getting done quickly and efficiently that benefitted both Allendale Township and GVSU students.
In the past, both the university and Allendale Township have acknowledged that there has been a lack of involvement between students and the surrounding community. As college students, we understand, as a collective group, that we aren't always the most likable community. We're young, we're noisy and sometimes we make questionable decisions. However, there is an opportunity for Allendale Township to use GVSU and the potential we hold to grow and prosper. This is a relationship that goes both ways. In order to work together effectively, we have to maintain respect for the community that we are a part of.
Having a sense of community is an extremely important characteristic for a college campus. In order to spark change, we need to have a mutual understanding that we are here to help one another. Whether that comes in the form of monetary support or volunteer efforts, it needs to be clear that we are all in this together.
Currently, the university has several institutions in place that we can utilize in the future to ensure that we are doing the most for students, as well as community members. Within student senate, we have an external relations committee that works with those around us on various projects to ensure student success. As a student body, we should be pitching fresh and insightful ideas to this committee and supporting the integration of GVSU students within the Allendale and Grand Rapids communities.
Students can also attend the Allendale Charter Township meetings and express any comments or concerns directly to Allendale's Township Board. On GVSU's end, making sure decisions benefit not only the students, but also the surrounding community, goes hand-in-hand with effective communication.
For most students, the lack of lighting surrounding campus has been a cause of concern for as long as we can remember. The fact that this has been acknowledged is just the beginning of the potential that we have to enact change and make a difference as not only members of the GVSU community, but the Allendale community as well.