Learning from the past
GVSU graduate Hillery York brings passion for history to Smithsonian Institute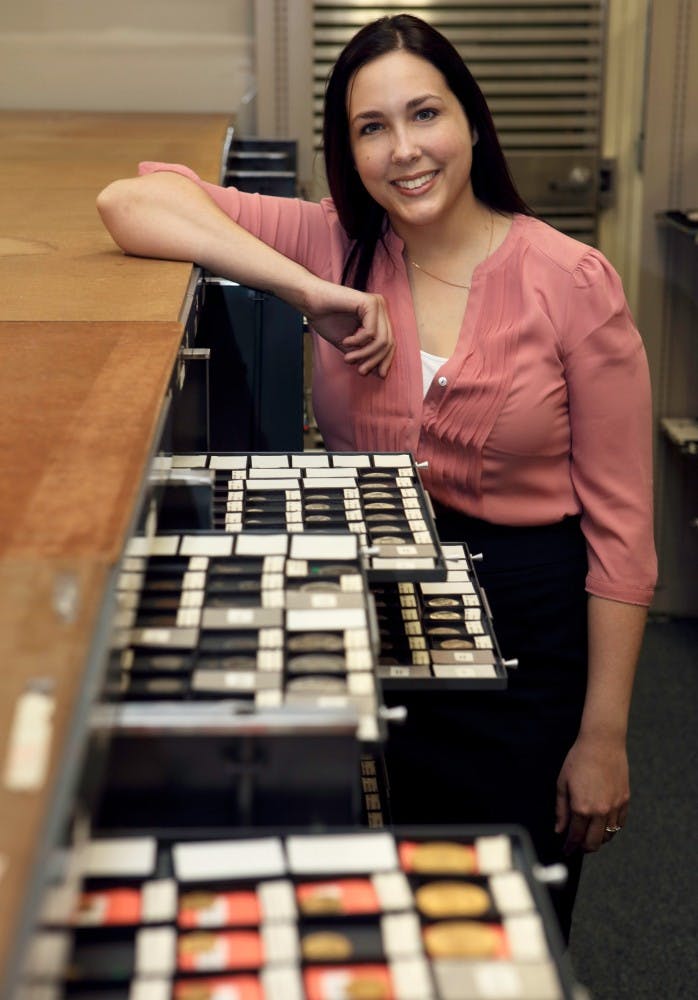 GVL / Courtesy - Jaclyn Nash Hillery York, pictured on Tuesday, Feb. 23, 2016.
For some college students, the most interesting discoveries they can make during their academic careers and beyond pertain to science, social studies or other fields. Some people, though, prefer to look to the past to learn more about human nature and how people operate.
Hillery York, the collections manager for the National Numismatic Collection (NNC) at the Smithsonian Institution's National Museum of American History, appreciates the opportunity to delve into the past through her work and share what she learns with others.
"This is such a venue to be able to speak to the public and engage with the public and learn new research and be able to package it in a way that can be dispersed around the country and even around the globe," York said.
With over 3.8 million visitors in 2016, the museum is just one branch of the Smithsonian Institution's many museums, galleries and research facilities dedicated to providing its visitors with information.
While York spends her days managing more than 1.6 million monetary objects in NNC's collection—processing and cataloging objects for inventories and preparing others for exhibit installations—the Grand Valley State University alumna was not always drawn to a career in history.
Entering the university with the belief she would graduate with a veterinary degree, the 2012 graduate said she was miserable her freshman year.
"I wasn't very happy in my vet classes because I had worked in a vet clinic, so it was very difficult for me to have already been working there and having to take some of these classes that I was struggling with," she said. "History for me had never really been an option."
York fell in love with history through her required general education courses. She said taking the "History of Witches" and European civilizations courses "blew my mind, and I was in love."
"Telling your family that you're not going to be a vet anymore and you're going to hopefully be a historian and one day work at the Smithsonian I think was a little jarring," she said.
York would eventually graduate with a Bachelor of Arts in history at GVSU, later attaining her Master of Arts in museum studies at George Washington University. She would be appointed the collections manager at the NNC in November 2013.
York credits much of her career and academic success to support from faculty and staff members during her internships, independent studies and research classes. These mentors nurtured her and pushed her toward a career in museum studies.
"She was an exceptional student," said Melissa Morison, an associate professor in the classics department at GVSU. "She had very clear goals and was very proactive about seeking opportunities to work closely with faculty to achieve those goals."
Alice Chapman, an associate professor of history at GVSU, said York's curiosity and enthusiasm for learning made it a privilege to work with her in and out of the classroom.
"Even though she was involved in many things, she was unflappable," Chapman said. "She just always seemed to have everything under control and organized. It was quite amazing: She never seemed rushed or stressed but had a kind of inner sovereignty, something that most people twice her age would envy."
Currently, York's favorite piece in the collection is an Ancient Greek coin from Ephesus. She called it "beautiful and absolutely captivating." She also enjoys other objects from the non-traditional currency collection.
"We have a stuffed quetzal bird, and their feathers were used by the indigenous peoples of Central and South America for trade, and in Guatemala today, their dollar is called the quetzal," she said. "So, we have this big stuffed bird in the collection, and he is beautiful, like every color of the rainbow and iridescent and just amazing.
"We named him Fred, and he is kind of like our unofficial mascot. We like to use him during tours to expand people's idea of what currency and monetary objects can be."
Being part of an institution that stresses increasing, dispersing and preserving knowledge, York said her work at the Smithsonian allows her to present history as something dynamic to study and enjoy.
Managing the NNC collection—which ranges from Ancient Greek and Roman coins to Confederacy currency—allows York to see how people used to communicate with one another and demonstrates that money can be anything.
"There's even a fascinating story about Yap stones, and we actually have one in our exhibit," she said. "They're basically big, huge round rocks with holes in the middle, and they're used for big purchases, and they don't move. They're on the island of Yap. Everyone in the community agreed that those rocks are valuable, and when you're using them to purchase things like a house, they just change ownership. The rocks don't move, so there are people who literally use rocks as currency."
York said looking through the different lenses of history opens a new world of insight and understanding.
"With all of these interesting paths, I became committed to showing people who have been in my position when I was 18 to say this is a viable path," she said.