Checks and balances
Student senate discusses election guidelines, procedures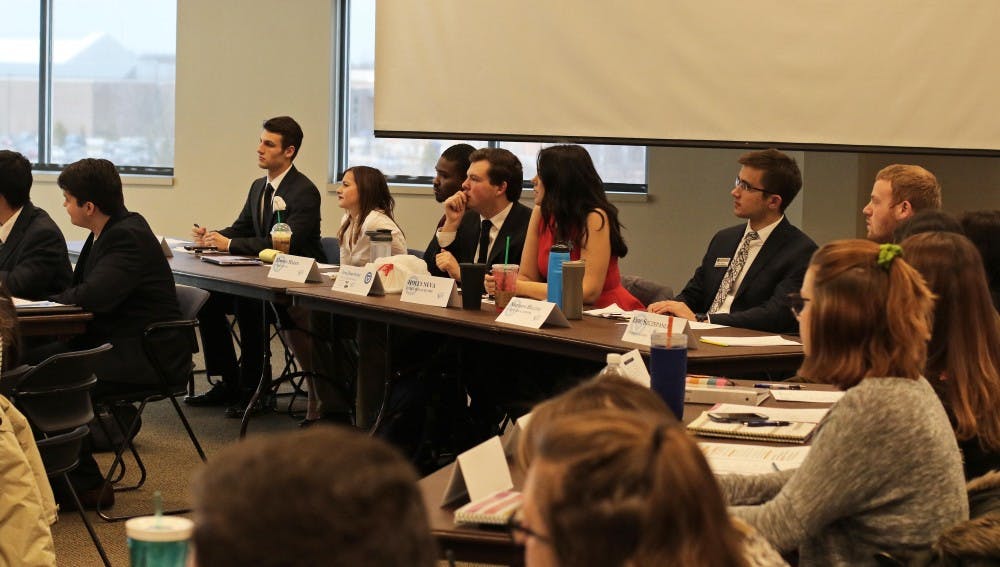 People can quickly get into a heated argument when they're talking about politics, especially when the person they're talking to has opposing views as them.
Although on a national platform, the presidential election is over, there are still debates and politicking happening on Grand Valley State University's campus.
GVSU's student senate elections start Monday, March 27, and there are senators who feel that a group of 16 potential senators have been campaigning unfairly and against the rules after a Facebook post endorsed the 16 candidates. The topic came up in their general assembly meeting Thursday, March 23, when senator Andrew Nurmi motioned to add it into their agenda.
It then generated some debate between the senators. Additionally, the person who made the post, Mike Sullivan, who is a previous student senator, happened to be sitting in the gallery and was allowed to speak to the body.
There are three candidates on five slates, with one write-in. Nurmi took issue with the fact that he believed these candidates were campaigning unfairly around campus as he said he had seen them using the same graphic and promo material
"I have multiple concerns because of this people because it violates the rules that we have for our election," he said. "I believe this is dishonest and I believe that we as senators should be held to a higher regard in our election process and that we should all play to the rules safely and have a fair election."
Every year during election season, there is an election commission who reviews candidates and their campaigning materials to make sure everyone is following election guidelines.
The election commission consists of Ella Fritzemeier, the student senate president; Sean O'Melia, student senate executive vice president; Bob Stoll, associate dean for student life; Eileen Sullivan, dean of students; and Felix Ngassa, a GVSU chemistry professor.
"We reviewed the materials after they were submitted, so they did go through the proper process to email and say 'hey we want to run with these three people, here's our promotion material,'" Fritzemeier said. "There was one incident- all of the names weren't listed, it still had only three names but it said 'our slate is composed of 16 candidates' and we said you must take that down, failure to do so with result in disqualification as well as any further publication of that will result in disqualification as well.
"We try to trust students to do the right thing, and we did not say in our elections guidelines that you can not use the same promotional materials so that is allowed, although its just up to the discretion (of the student)."
The Facebook post by Sullivan included the names of 16 candidates and a graphic and promotion material that all of the slates had been using. When he spoke to the body, he assured them the candidates, and himself, were following the rules.
"You have 16 people who believe in restoring transparency to this body, which they believe was upset this year," he said, "they believe in bringing back equal representation in this body and they believe more diversity to this body."
The other concern Nurmi and another senator, Ethan Schafer, reiterated were their suspicions that the candidates were running on a politically- affiliated platform, more specifically with the College Republicans.
"When I'm out campaigning, and someone asks me if I'm endorsed by the College Republicans, it kind of puts a damper on the whole point of us campaigning and not being partisan in this whole election," Schafer said. "Because I feel as though if this entire group is to be endorsed, and they all were to get on senate (you're) going to create anger (and) you're either with this group to you're against this group and that's not what senates about, senates a nonpartisan body."
Fritzemeier stepped in to restate that not only were the slates of candidates not politically affiliated, but College Republicans were free to endorse whoever they wanted.
"Senate is nonpartisan, (the) group is not running for a specific platform or anything like that, and they're not really affiliated since there are only three people on each of the posters," she said. "I will also say we can't limit free speech so other people can publish (what they want), so if they're not running for senate, you can say 'I endorse every single person running.'"
Sullivan also said the slate of candidates were not endorsed by GVSU's chapter of College Republicans and that using the same promotion material is not against the election guidelines.
"There is no political affiliation of the slate to bring partisan politics into this body as a slate is composed of students who are democratic, republican and independents," Sullivan said. "Several of these members on the slate are affiliated with the College Republicans, (but) I would like to remind senators, I'm not drawing any connections or causations, that several senators on this body are affiliated with College Democrats."
In an email response after the meeting, Sullivan further explained his position about why he posted on Facebook and why he came to senate's meeting to speak to the body.
"My general thoughts were on the discussion that some senators didn't quite understand what this group of 16 students are trying to do," he said. "They are not campaigning together but simply using the same platform and graphics to do so across the five slates that are running. No rules are being broken by any of the five slates."
Sullivan also said he did not expect this type of response after endorsing the candidates.
"I was surprised to see a small minority group of senators had a problem with me doing so. I'm not sure why there are senators that are upset with the Facebook post I made," he said. "I am a student just like anyone else on this campus, and I endorse 16 candidates for student senate. So what? I may end up endorsing even more candidates.
"But what I don't respect is a senator like Andrew Nurmi conveying a message that I am not allowed per the senate rules to do so, because he's wrong.
Sullivan also concluded that the College Republicans have not endorsed any one slate or person for senate.
"Among the 5 slates I am supporting, there are students who are Democratic, Republican, and Independent," he said, "but none of that matters because all of these students believe partisan politics has no place in student senate."