Spotlight Productions' talent show to benefit Laker Children's Fund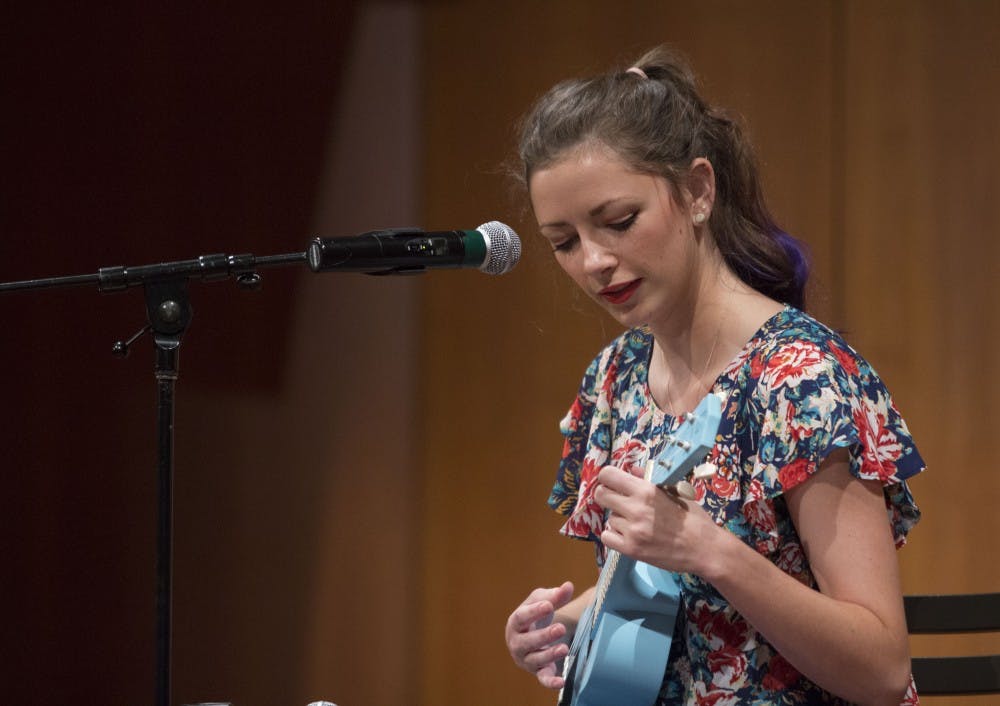 GVL/Mackenzie Bush - Lilly Greenwood sings and plays ukulele at Grand Valley's Got Talent Tuesday, Nov. 1, 2016 in the Cook Dewitt Center.
It can be nerve-racking to perform in front of others, especially your peers. However, students participating in Grand Valley State University's "GV's Got Talent" have decided to take the leap and showcase their talents for a good cause.
GV's Got Talent, hosted by Spotlight Productions, will be held Tuesday, Sept. 26, at 9 p.m. Tickets are $2 and may be purchased at the door. There is no limit to the amount of tickets a student can purchase, and all students and participants are encouraged to invite their friends and family to attend the show.
"This event will hopefully become a Spotlight tradition," said Brenna Hendler, music chair of Spotlight Productions.
These student performers had to audition for the event and have since been practicing their acts in order to put on a good show for GVSU. Some performers will be musicians, and there will even a magician.
"The magician should change it up a bit this year," said Sabrina Somers, vice president of Spotlight Productions.
Spotlight Productions is proud to be hosting an event that is also a fundraiser. GV's Got Talent is a part of the Battle of the Valleys' fundraising competition, and all of the proceeds will go to the Laker Children's Fund (LCF).
According to GVSU's website, "The Laker Children's Fund is an organization primarily coordinated by Grand Valley State University students that raises money and awards grants of up to $5,000 to nonprofit organizations."
"I think it's cool because it raises money for Battle of the Valleys," Somers said. "Every vote a person makes has to donate a dollar, and that goes right to the Battle of the Valley fund. I think it's really great."
Voting will be based on the amount of ballots the contestant receives at the end of the show. Contestants are encouraged to invite their friends and family to come out and support them while keeping in mind that the proceeds are going to a good cause.
The contestant with the most ballots will win the event. Voting is done at the end of the show after all of the acts have been completed.
"The voting is based on audience participation, much like American Idol or The Voice," Hendler said. "What I'm hoping for is that the participants bring their friends and family and whoever else that decides to come, that they purchase their ballots at the door, and that they stay until the end of the event."
Somers said the event would be fun for the participants.
"Everyone always gets a vote; it's almost guaranteed," Somers said. "It's not always based on talent, but it's still fun for everyone to showcase what they have to everyone on campus and raise money, too."
Although this event may appear competitive or intimidating, GV's Got Talent is hosted mostly for contestants to showcase their talent to their fellow GVSU classmates while also raising money.
If you have questions or want more information about the event, contact Spotlight Productions at spotlight@gvsu.edu.