International students plant trees for GVSU's Sustainability Week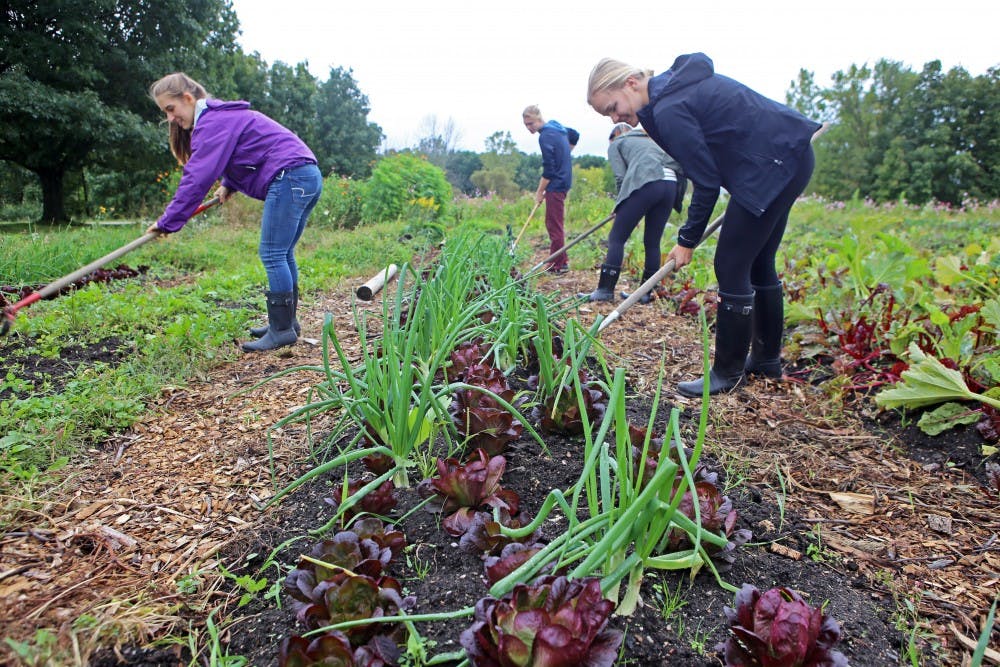 GVL / Emily Frye Julia Henderson (far left), Taylor Keppel (far right), and other Grand Valley students volunteering at the GVSU Sustainability Farm on Friday Sept. 30, 2016.
To honor international students and Grand Valley State University's sustainability mission, the Padnos International Center (PIC), in conjunction with the Sustainable Agriculture Project (SAP), will host the "Global Grove" event Friday, Oct. 6, from 2 p.m. to 4 p.m.
Grand Valley State University has been participating in sustainability practices for more than 11 years now and promotes these efforts by incorporating compost, recycling, alternative transportation and water-bottle refilling stations into the daily lives of students.
The event also poses as an opportunity for the PIC to recognize its more than 17 international partnerships. The PIC has been helping students study abroad for decades and is dedicated to making GVSU a culturally diverse university where students can learn more about the world around them and study outside of the United States.
"At the event, we dedicate a tree to each school and also bring together students who are here on an exchange from our partners, along with domestic students who have participated in the exchange," said Libby Jawish, international student integration coordinator at GVSU. "We take a photo with these students and the cute little tree. Afterwards, we send the photos to our partners.
"This helps to build community among the students that attend and strengthen our ties with our partners internationally."
The SAP is a place where students can go to learn about plants and the ways humans and the environment interact. The SAP also grows a variety of organic vegetables and sells them to support their sustainability efforts while also making students on campus more aware of their everyday choices and how they affect the planet around us.
"Global Grove will be an event where we partner with the Padnos International Center as well as other students around campus to plant trees at our campus farm," said Youssef Darwish, farm manager. "Trees are especially relevant to student life. Students at the university are transient, but these trees will leave the legacy that last beyond graduation. Students will be able to come back and harvest the fruit of the trees ... they planted."
The Global Grove event is an important part of Sustainability Week, which lasts from Sunday, Oct. 1, to Saturday, Oct. 7. During this week, many events have been occurring to promote living a sustainable lifestyle on campus.
"Volunteering at the farm is great way to meet each other from backgrounds across the university," Darwish said. "We welcome all majors to get involved and dig in."
Doughnuts and cider will be provided for those who attend. For individuals who do not have transportation to the event, a van will be leaving from Lot M in front of Lake Ontario Hall at 1:45 p.m.