GVSU Founders Day to celebrate university's history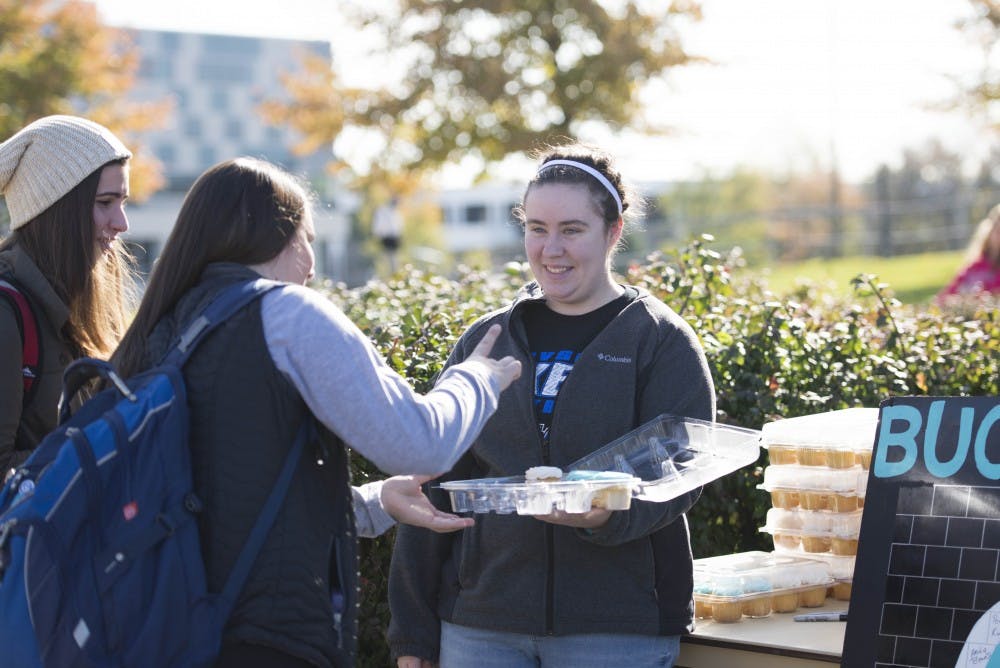 GVL / Luke Holmes - Kimberly Long passes out cupcakes. GVSU Founders Day was celebrated on Tuesday, Oct. 25, 2016 next to the clock tower.
Fifty-seven years ago, 282 individuals put their minds and resources together to form what we now call Grand Valley State University. With a lot of hard work, they came together to raise an initial $1 million to purchase the original GVSU property.
Now, years later, GVSU will honor their hard work and dedication Wednesday, Oct. 25, at the annual Founders Day celebration. This tradition, which has been ongoing since 2013, is a collaboration between the Future Alumni Association and Laker Traditions.
Founders Day, which will take place from 11 a.m. to 3 p.m., will be packed full of different activities designed to bring awareness to GVSU's history and celebrate the university's birthday. There will be 282 flags on both the Allendale and Pew campuses for people to view in honor of the founders, and there will also be cupcakes and a scholarship fundraiser.
Lindsey Smith, a GVSU student and one of the coordinators of the Founders Day events, said the celebration is an opportunity for attendees to reflect on where GVSU started and where it is today.
"We are a thriving university now," Smith said. "We have to look back on our history to realize where we came from."
The fundraiser for the "Student Legacy Scholarship" is a student-for-student fundraiser. In buying a brick, students can help other students in need of scholarship funds. While buying a brick may seem strange, Smith said the selling of bricks holds significance in the university's history.
"Our founders sold bricks for the clock tower, and that is what raised the initial dollars to create Grand Valley," Smith said. "That's why we sell bricks for a dollar to raise money for this fund. It's a really cool fund. It makes you think about the history."
Smith said Founders Day isn't just about buying cupcakes and gazing at more than 200 flags: It's about recognizing the hard work and dedication that has gone into making the university the way it is today.
"I hope they think about how people put it together so many years ago to make sure that this college experience happens for everyone," Smith said.
Amy Blaker, another GVSU student who is coordinating this event, said Founders Day is not just a reflection on our university but on the students and the Grand Rapids community as a whole.
"Thanks to our 282 founders, we have this campus that continues to grow," Blaker said. "It has the brick-by-brick philosophy to it. Like our founders, we save to pay for each brick in life one way or another to create a beautiful masterpiece.
"Each (GVSU student) continues the work of our founders with a single brick at a time. Some become a part of the Grand Rapids community to support the campus and others spread the Laker Effect."
To learn more about Founders Day, visit www.gvsu.edu/foundersday.