Column: What happened to the Detroit Tigers (and what's next)?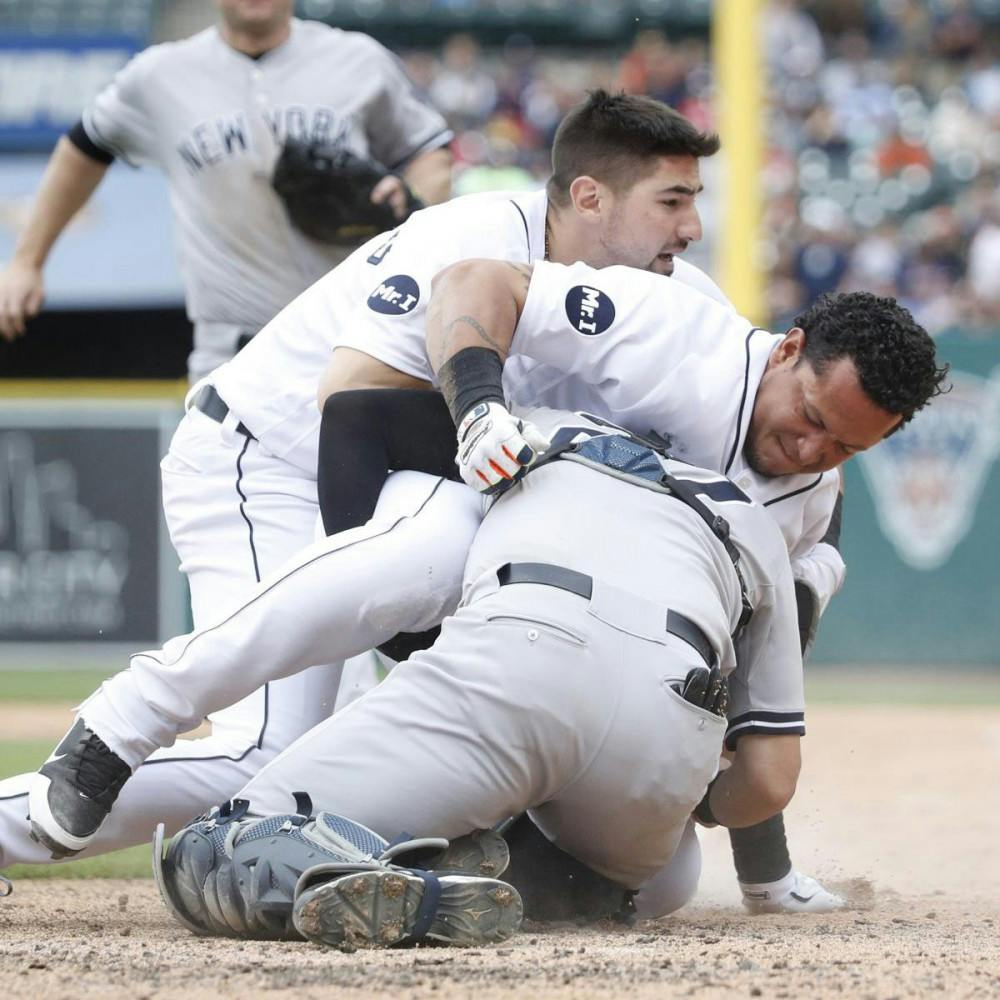 GVL / Courtesy - Getty Images
The Detroit Tigers came into the 2017 season with expectations aplenty.
Nobody anticipated them to challenge the reigning American League champions, the Cleveland Indians. However, if they were to handle teams predicted to be worse than they were, they could very well slip into one of the wide-open wild-card spots.
Therein lies the problem: nobody was worse than the Tigers in 2017.
Finishing with a putrid 64-98 record and a minus-159 run differential, the Tigers didn't secure themselves a playoff bid but rather the No. 1 pick in the 2018 draft.
The mark came one year after an 86-win campaign, giving them the second-most wins lost from 2016-17.
So what happened? If I were to run down everything that went awry, this article would take up your entire afternoon, so let's not do that.
For starters, let's start with, well, the starting pitching staff.
Six pitchers threw at least 100 innings for Detroit this season: Justin Verlander (172), Michael Fulmer (164.2), Jordan Zimmermann (160), Matt Boyd (135), Anibal Sanchez (105.1) and Daniel Norris (101.2). Of the six, only two—Verlander (3.82) and Fulmer (3.83)—had an earned run average (ERA) under four or five for that matter.
Zimmermann continued to disappoint after signing his massive deal with the Tigers before the 2015 season, as he posted an ugly 6.08 ERA, with only 103 strikeouts, and a 1.55 walks/hits per innings pitched.
Boyd, despite his complete-game shutout in September, managed a 5.27 ERA and 1.56 WHIP. In what was likely his farewell tour with the Tigers, Sanchez stunk the city up with a 6.41 ERA and 1.59 WHIP, and former top prospect Daniel Norris compiled a 5.31 ERA and 1.61 WHIP in the time that he was even healthy.
As is evident, Verlander and Fulmer were the lone bright spots in the shoddy rotation before being dealt and injured, respectively.
Then there's the bullpen.
There were bright spots in there, too. Shane Greene proved he could be a reliable back-end relief pitcher and shut games down in the few opportunities he received, converting on nine of 13 saves and posting a 2.66 ERA in 67.2 innings. Justin Wilson did the same before being flipped with Alex Avila to the Chicago Cubs. Even Daniel Stumpf, a Rule 5 draft pick before the season, chipped in 37.2 strong innings with a 3.82 ERA.
Outside of those three, there was chaos. There were 12—12!—Tigers relievers who had ERAs over six. Among them were beleaguered veteran closer Francisco Rodriguez, who tossed 25.1 innings and blew six saves (and converted only seven) while holding a 7.82 ERA before being mercifully cut in June.
So, yeah, we know the pitching was not good. How was the offense?
While the bats were not at the bottom of the league as far as runs scored, they weren't at the top, either, finishing 19th out of 30 teams.
The lower-middle placement can be chalked up to lack of production from a trio of key veteran bats: Miguel Cabrera, Victor Martinez and Ian Kinsler.
Martinez hit slashed .255/.324/.697 and clubbed only 10 home runs in the 107 games he played. Kinsler posted a career-worst .236 average out of the leadoff spot and scored only 90 runs compared to his 117 the previous year. Cabrera—yes, the legendary Triple Crown winner and two-time MVP—hit under .300 for the first time since 2008 and only the third time in his 15-year career, and it wasn't close. His average finished up at .249, and he clubbed only 16 home runs (second least in his career, only to his rookie season where he played 43 fewer games and hit only four fewer bombs).
There were bright spots in between the holes, though.
Third baseman Nicholas Castellanos set new career highs in runs scored, hits, doubles, triples (in which he led the AL with 10), home runs, runs batted in and walks. Right fielder Alex Presley stepped in for the departed J.D. Martinez and hit .314, and center fielder Mikie Mahtook, who was acquired from the Tampa Bay Rays before the season began, hit .276 with 12 home runs while playing stout defense.
Lastly, there were the trades.
Once July rolled around, the Tigers found themselves in the unenviable position of being on the outside looking in on the postseason picture, albeit not by much. With a formidable payroll and a wealth of moveable assets, general manager Al Avila pulled the trigger and made four major trades.
The first was to move fan-favorite and perennial All-Star Martinez to the Arizona Diamondbacks for infielders Dawel Lugo (Tigers' No. 15 prospect via MLB.com), Sergio Alcantara (No. 25) and Jose King (NR). The return was gauged as light even before Martinez caught fire in the desert and led the Diamondbacks to the postseason.
Second, it would be closer Justin Wilson and Alex Avila, son of general manager Al Avila, heading to the Cubs for third/first baseman Jeimer Candelario (No. 4, now graduated from prospect status) and shortstop Isaac Paredes (No. 9). Candelario was soon promoted to the Tigers' main roster and shined in his limited time in the big leagues, hitting .330 with two home runs and playing solid defense at the hot corner.
The Tigers were still active after the trade deadline, sending several players through waivers. Many cleared waivers, making them eligible to be traded once again, and two of them were on the same day.
First off, it would be outfielder Justin Upton to the Los Angeles Angels. Before Castellanos would step up to lead the offense, it was Upton who did exactly that. The Tigers received pitchers Grayson Long (No. 14) and Elvin Rodriguez.
That evening, there were whispers that Verlander, who was rumored to be moved before the midnight deadline of that very day, was going to be Houston bound. Mere minutes before the deadline hit, the story broke: he was an Astro.
For their longtime ace and franchise cornerstone, the Tigers received pitcher Franklin Perez (No. 1), outfielder Daz Cameron (No. 5) and catcher Jake Rogers (No. 7).
The trades helped jumpstart what is expected to be a lengthy rebuild for Detroit. Things won't look good in 2018 and might not get much better in 2019, but things will eventually get better thanks to guys like Candelario, Perez, Cameron, pitchers Matt Manning, Alex Faedo and Beau Burrows, outfielder Christin Stewart, and whoever they decide to take at No. 1 in the draft.