Journalism professor, students represent GVSU at South African conference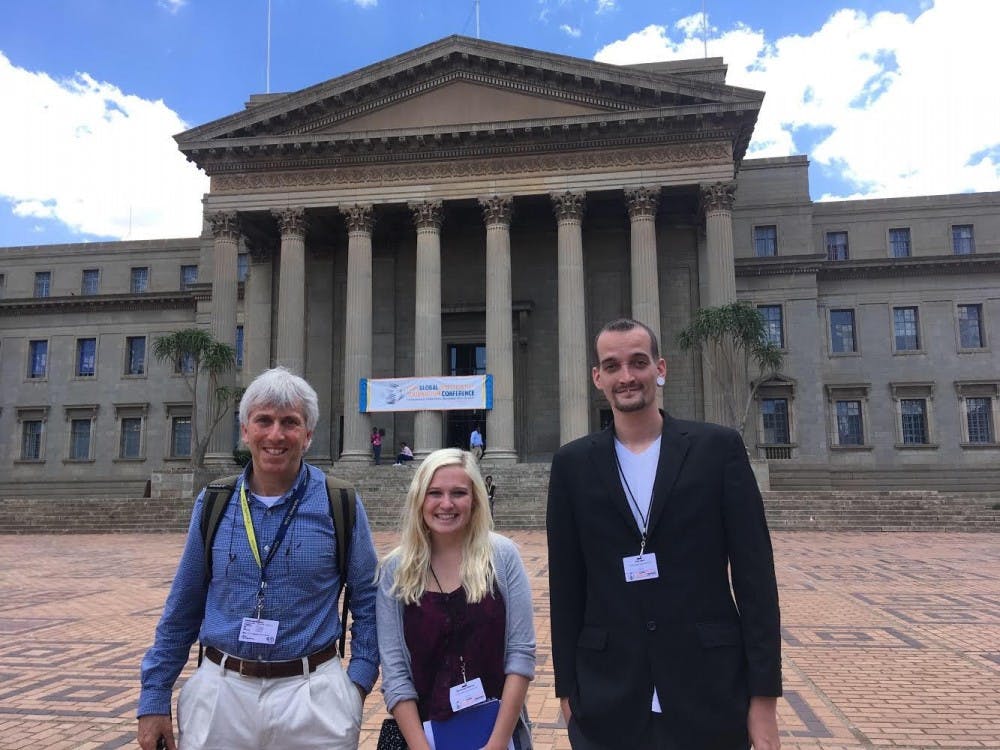 GVL / Courtesy - Jeff Lowenstein
Earlier in November, investigative journalists from around the globe gathered in Johannesburg, South Africa, for the Global Investigative Journalism Conference (GIJC). Among them were three members of the Grand Valley State University community.
Jeff Kelly Lowenstein, assistant professor of multimedia journalism (CMJ), was accompanied by CMJ students McKenna Peariso and Eric Deyo to take the trip to attend the biennial event. It was there that they had the chance to network with other journalists and broaden their journalistic knowledge and skills.
At the GIJC, journalists share their work, speak about projects they are working on, and report on relevant stories and topics. After attending the 2013 GIJC in Rio de Janeiro, Brazil, Kelly Lowenstein applied to be a presenter at this year's conference. He was excited to be accepted, and on behalf of his team, Kelly Lowenstein presented on the global lottery industry.
"It's inspiring and humbling to be around 1,200 journalists from 130 countries around the world," Kelly Lowenstein said via email. "I was reminded of just how creative and courageous many investigative journalists are around the world. Many of them work in far more dangerous and difficult circumstances than we do."
This year, Kelly Lowenstein especially enjoyed having the company of Peariso and Deyo.
"It was a thrill to be able to bring two GVSU students to attend the conference and participate in the first-ever newsroom," he said.
Peariso and Deyo were two of 40 journalism students from Germany, the U.S. and South Africa in attendance at the 2017 GIJC. These two students were selected by Kelly Lowenstein through an application process, and both were honored and humbled by the opportunity.
"I knew from the beginning this was an awesome opportunity to network with journalists from all over the globe but also to learn proper techniques in the world of reporting," Peariso said.
She admitted to having walked away thoroughly inspired.
"The biggest thing I learned is the absolute need for journalism in our world," Peariso said. "Some of the countries represented at GIJC are struggling to maintain news organizations under controlling governments. Many of these journalists are risking their lives for their cause because the need for truth and information is a key to culminating societies built on these principles."
Deyo also knew this was an opportunity he didn't want to miss.
"I knew it would be not only educational but inspirational as well," he said. "It's not every day you get the chance to travel halfway across the world to meet some of the most courageous and accomplished journalists."
Deyo was excited for the opportunity to network at the GIJC.
"I received face time with people of incredible caliber," he said. "The networking will surely play a large role in my future."
The conference left the three with a heightened awareness of the importance of journalism and a growing ambition to contribute to its evolution.
"Going forward, I have more professional contacts to utilize and also a better understanding of how to create worthwhile stories that matter to society," Peariso said. "I hope I can use both of these assets to be a better journalist in the future."
Deyo took away a new perspective and reclaimed gratitude from the conference.
"We oftentimes take for granted the access to information we have," he said.
Kelly Lowenstein is eagerly looking forward to the next conference in 2019.
"I'm excited to continue to expand our lottery project, and (I) want to bring Grand Valley students to present at the next conference in 2019," he said.