GVSU grad student Andrew Travis recognized as 'rising star'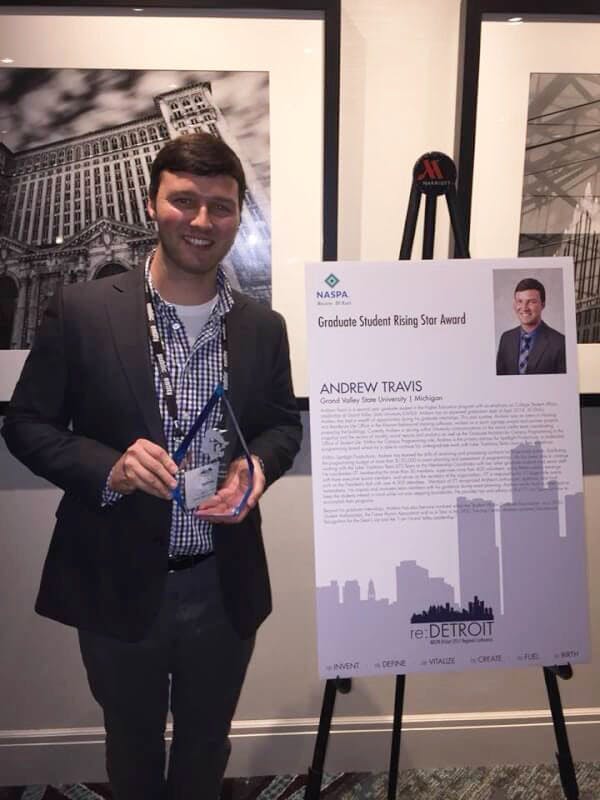 GVL / Courtesy - gvsu.edu Andrew Travis was recognized at conference in Detroit in November.
How many people can say they work in a field they are passionate about? According to a 2017 Gallup study, two-thirds of the American workforce is not passionate about their work. This means that workers either feel no connection to their occupations or even actively resent their jobs.
This is not the case for Andrew Travis, however, a graduate student in the College Student Affairs Leadership program at Grand Valley State University who was the only graduate student in Michigan to receive the Graduate Rising Star Award from NASPA - Student Affairs Administrators in Higher Education in November 2017.
"This award meant a lot to me," Travis said. "I was very surprised by it. It meant a lot to me because this is kind of the end of my college student career, and now I get to go in and be a professional full time. So, getting this award (in) my last year of grad school made me realize that I made the right decision in what I was going in to.
"Having other people recognize the importance of the work that I was doing made me excited about the future that is to come in this profession."
According to the NASPA website, the criteria for the Graduate Rising Star Award are demonstrated excellence in the classroom, intent of pursuing a career in student affairs, leadership and innovation in their internship/cooperative experience, and potential for significant contributions to the student affairs profession.
Travis' nomination was completed jointly by Michigan Technological University and GVSU.
"With my program, we had to complete an internship this summer, so I worked at (MTU) in Houghton, and I worked in their housing department," Travis said. "I did a lot of housing programs and assessment. It was a wonderful experience, and one of my colleagues at Tech was the one who called over to this office, and they nominated me for this award."
LeaAnn Tibbe, associate director of student life at GVSU, was contacted by Travis' colleague at MTU about the nomination, and she was immediately on board.
"When Jonathan Davey from Michigan Tech said, 'I want to recognize him. He's a great guy that's got a wonderful work ethic; he's got a real passion for students and for getting students involved on campus,' and I agreed completely," Tibbe said. "I said I would also like to write a letter of support."
Some of the things Tibbe included in her letter dealt with Travis' ability to demonstrate strong leadership, handle conflicts and treat students with a high level of maturity.
"What really happened to me here at Grand Valley was I got involved," Travis said. "This office, Student Life, was really the hub office that helped me get involved. After getting this experience and seeing that there's so much more outside of the classroom, that is when I realized I really enjoyed that.
"When I found out I could do that as a profession and go to grad school for that, that's when it all sparked."
In Travis' eyes, his work with students will reward him for a lifetime.
"If you asked me in high school if I would want to do this, I would've been like, 'What is that?'" he said. "But after realizing the importance and the impact that student affairs has on college students, I want to do this the rest of my life now."