New sustainability project pitched at student senate meeting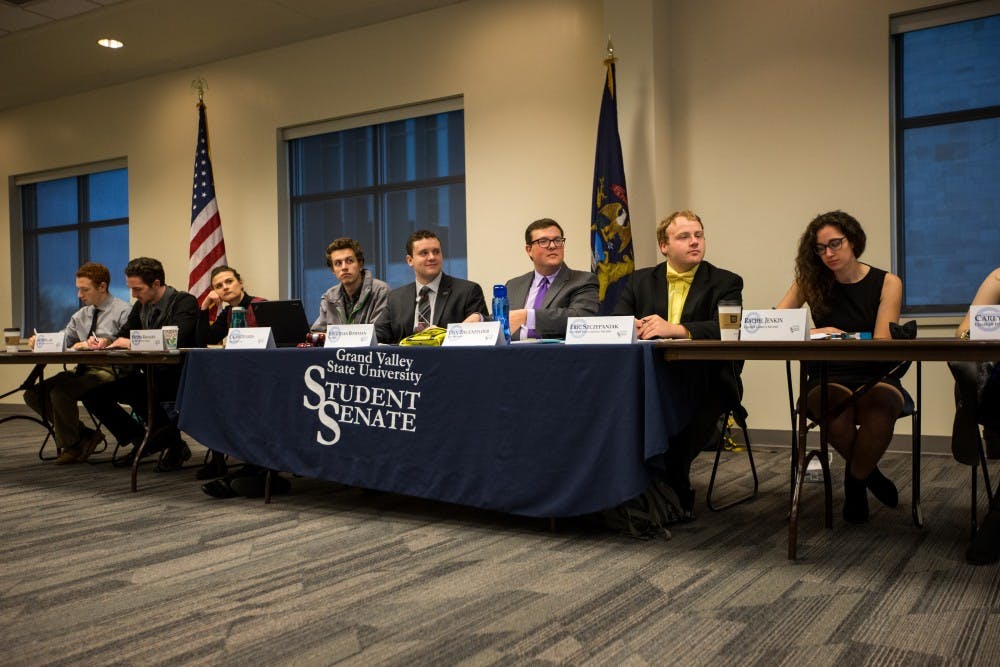 GVL /Matt Read Student Senate meets on Thursday November 13th, 2017. They opened with discussing their social media outreach.
A new sustainability initiative was proposed at the Grand Valley State University student senate's general assembly on Thursday, Jan. 18. The meeting also included a guest speaker from the Office of Student Life, discussion on an upcoming conference at GVSU and reports from all members of the cabinet, as well as some of the senators.
During the public comment period of the assembly, Samuel Merring, a GVSU student, pitched an idea to the senate regarding recycling and sustainability on campus. Instead of the blue plastic recycling bins given to students living on campus, he proposed using large zippered bags, as the blue bins are often just used as second trash cans. He polled nearly 300 students, faculty and staff around the Cook Carillon Tower and gathered signatures in support of his idea.
Several members of student senate supported the idea behind the pitch.
"I think it's a great idea," said Madison Esselink of the campus affairs committee. "I think it makes students' lives a lot easier.
"I live in the freshman dorms. I don't recycle anything because we have the two little trash cans my roommate and I have. So, if I had something like that, I would definitely be recycling more."
"I definitely like the idea," said Holly Neva of the senate resources committee. "I love the fact that he (got) it from another university and that he decided to bring it here to show his love for Grand Valley.
"He did all the surveys and everything. I think it was great, and the student action against it shows that you don't have to be on senate just to be a leader."
The idea will have to go through several GVSU departments to be considered before it can be put into practice.
"I'm sure that our campus affairs committee is going to work with him to see what exactly it is that he wants and how can we help him to achieve that because we're always open to new ideas and want to help students accomplish things," said Jonathan Bowman, student senate president. "It's just the logistics of where do we go from here and what steps do we take. Obviously, you would need money for that, and you'd have to get approval from housing and disbursement."
LeaAnn Tibbe, associate director of student life at GVSU, was the only guest speaker at the general assembly. She discussed the importance of student involvement, especially among freshmen, as well as the upcoming Presidents' Ball.
"We have to tell students why they need to get involved, and why they need to get involved is because they can become more," Tibbe said. "I want you all to become more, so I'm going to encourage you to come out to the Presidents' Ball. We build community at Presidents' Ball and meet other people there."
Later in the meeting, Bowman also discussed a multi-college conference that will be held at GVSU in February. The conference will bring student governments from around the state to Allendale for discussion.
"This year, our student senate at Grand Valley is hosting a conference for all schools in Michigan, public and private, just to get together and see what different initiatives different universities and colleges are working on at their institutions," Bowman said. "We just want to have a good dialogue on what those (initiatives) might be and if we can learn from each other in our different schools.
"That's going to be in February, and we have a few schools that have already signed up, so that's exciting. It'll be in Niemeyer for a whole day."
Student senate meets in the Kirkhof Center Pere Marquette Room at 4:30 p.m. every Thursday.