GVSU track and field freshman Justin Scavarda dominating to start indoor season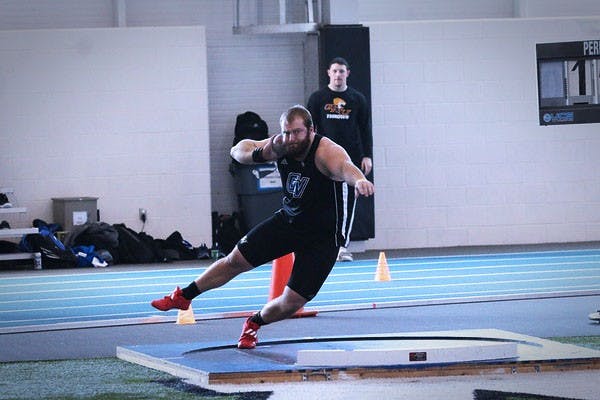 GVL / Courtesy - Al Steible
As a state champion in discus and indoor state champion in shot put as a senior (among other accolades), and having never lost a single meet he competed in his senior year, Grand Valley State redshirt freshman thrower Justin Scavarda certainly didn't have to worry about losing in high school.
Luckily, that trend has continued for him in his first full track season at GVSU.
Scavarda has had a very strong indoor season so far. He was nominated for the HERO Sports HERO of the Week honor after finishing with strong performances at the Bob Eubanks Open in early January. Scavarda finished top two in shot put and weight throw, and those scores led to him being ranked second in the GLIAC in the shot put and eighth in the GLIAC in weight throw.
As soon as he came on campus for a visit, Scavarda knew GVSU was the right place for him.
"I just felt like I belonged," Scavarda said. "I went to other visits and it just felt like you're a number, but here it was like I mattered and people actually care about how you end up. Coach Denard really thinks that way. He cares about throwing, but he is also always there to talk to whenever you need him."
Scavarda is a person who enjoys getting better every single day more than anything. He loves going to practice with his teammates and building those relationships while also improving and getting ready for future meets. Scavarda had only been dead set on grinding in the weight room and during practice, so his teammates told him he should add more time to help form bonds with his team, and that has led to him enjoying practices with the team more than anything else.
After being so dominant in high school, it would be easy for him to become complacent and try to coast by on former achievements. He realized that college is far different than high school in terms of skills of throwers.
"The competition goes through the roof—it's unbelievably different," Scavarda said. "In high school, I was one of three kids in the state who could throw 60 feet my senior (year). Coming here, if you can throw 60 feet, it's no big deal. The shot is four pounds heavier than it is in high school, so your distance goes way down and you have to build that back up."
The raised level of competition hasn't stopped Scavarda from having high expectations for himself moving forward in the season, however.
"My goal is at minimum to take top three at GLIACs, and then I want to be an All-American at Nationals," he said. "Obviously, if it came down to it, the ultimate goal would be to be National champion and GLIAC champion. Then, in (indoor), start strong, hit my marks to qualify for nationals and try to do the same thing at outdoor."
Scavarda and the rest of the track and field team will be back in action on Friday, Feb. 16, in the GVSU Tune-Up.