Dancing to the beat of a different drum
A Tribe Called Red enlightens and entertains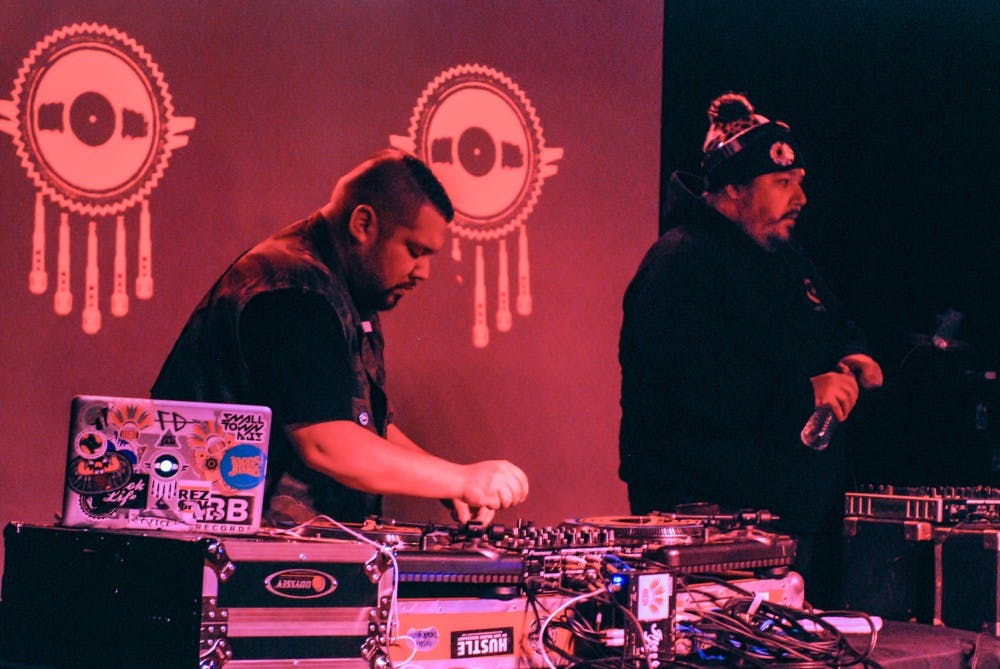 DJ Shub (left) and DJ Bear Witness (right) of A Tribe Called Red perform at The Pyramid Scheme on Thursday night, drawing a diverse and energetic crowd. GVL / Hannah Mico.
With electronic dance music now firmly planted in mainstream music and music festivals alike, it's not often that an artist within the genre can claim to produce a truly unique sound. But when A Tribe Called Red — a trio of indigenous Canadian DJs — visited The Pyramid Scheme on Feb. 13, it brought with it not only a unique sound, but also a meaningful message.
Since 2007, Ottawa natives Ian "DJ NDN" Campeau, Dan "DJ Shub" General and Bear Witness have been blending subgenres of electronic music, such as trap and house, with elements of First Nations music such as vocal chanting and drumming — a fusion of genres that has been dubbed "powwow-step." The group began performing at various dance clubs but quickly gained international attention, affording it the opportunity to tour worldwide.
According to local EDM producer Spencer Briley, ATCR seems to follow its own creative flow, making for music that isn't easily labeled.
"It ranges from dance tracks to jam tracks, taking influences from Dutch house, moombahton and dubstep," Briley said. "It resembles a work-in-progress fusion of STS9 and Bassnectar in that it maintains a tribal feel that is reminiscent of the early days of dubstep."
On Thursday evening, the structure of ATCR's set was tantamount to that of a typical DJ in that each track seemed to spill over into the next, making for smooth transitions between each song. The genres varied greatly and did so frequently, making for a performance that truly kept the audience guessing what would come next.
And while samples from well known hip hop tracks such as Sean Paul's "Get Busy" might not be a rarity within the realm of DJing, blending that type of sample with First Nations music most definitely is — an aspect of ATCR that, according to local Native American activist Jonathan Rinehart, is helping to make the Native culture more accessible to others.
"What they're doing is utilizing modern technology to convey a political message," said Rinehart, who was at the show on Thursday. "The group was mixing traditional music with more modern music, and one thing that we can look at through that is social change; once we start to look for more things that we have in common rather than divide us, we can stop moving apart."
Rinehart said he believes that if they can bring people of different cultures together to dance and to celebrate through events such as ATCR's performance, then they can continue to build momentum toward racial equality.
One element of ATCR's show on Thursday that further demonstrated this notion was a traditional hoop dancer who, using large hoops, told tales onstage during the set.
"He formed spheres with the hoops, which was a representation of creation," Rinehart said. "All of the different hoops are circles of life. No matter what you are; Latino, Asian, Caucasian, African American — all of those hoops are interwoven, supporting one another. If you take any one part of that away, any one of those hoops, that creation falls apart."
Another notable feature of ATCR's performance was a series of visuals projected behind the DJs, which featured video clips from discriminatory film portrayals of Natives. According to the group, these images are repurposed samples meant to speak out on aboriginal issues such as perpetuated negative images, as well as their lost culture.
Based on GRCC student Jordan Tozer's experience at the show, ATCR seems to have found an effective medium through which to convey their message.
"In a sense, it modernizes their culture," Tozer said. "It adds music that is historic to modern music that is popular, because after all, EDM is really popular. It makes their culture more relevant, because honestly many people today don't usually just think of that culture. It really puts them on the map."