Understanding what it all means
Revised art course explores the concept of "meaning"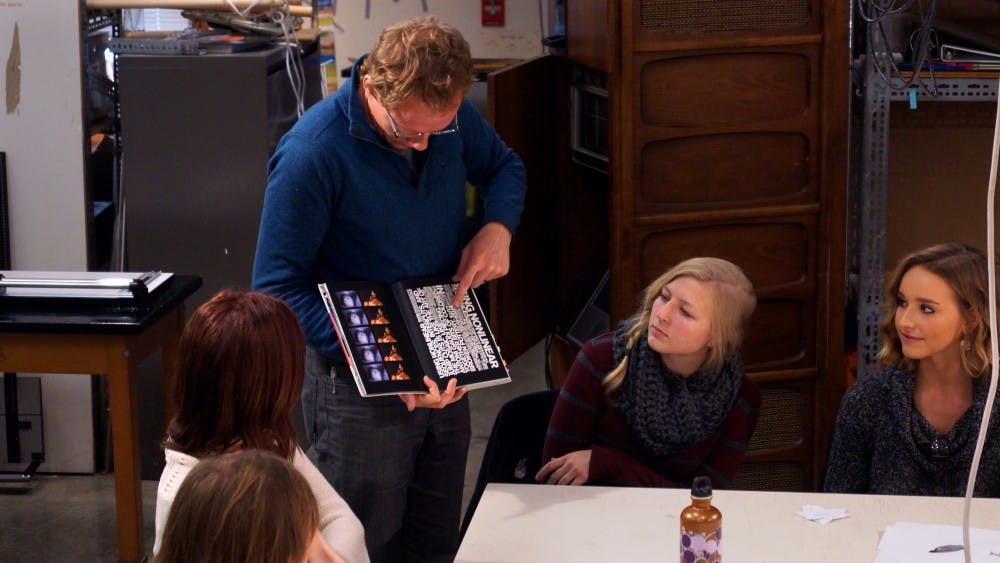 GVL / Courtesy - Katie Person
While the newly revised "Making and Meaning" course at Grand Valley State University does fulfill the "Foundation: Arts" requirement that many students encounter on their trek to a degree, it also offers digital natives a chance to slow down and examine their engagement with music, culture, lifestyle, social/political concerns and other elements that have resulted in this generation's deep involvement with dynamic cultural forms.
The cultural revolution of this era has had a transformative impact on much of society, which is reflected in the current art scene. Through "Making and Meaning," students are immersed in a studio environment where they are able to create, as well as collectively analyze, these phenomena.
"We focus on exploring how the images, objects and spaces around us come to have meaning for us as individuals and in culture," said professor Collin Bradford of GVSU's department of art and design. "In our day-to-day lives we absorb a lot of that meaning on a subconscious level. In this class one of the things we do is slow down that process to begin to understand how meaning happens for us and for others — how pictures, commercial products, art objects, etc. come to have the meanings that they have."
Much of the learning and discussion that occurs in "Making and Meaning" centers around the art that students produce for the course. And while non-art majors might find themselves intimidated with the idea of fabricating art, the works that are created in class don't require traditional art-making methods such as drawing or painting. Instead, the class focuses on the combining of images and objects that students both find and create.

Additionally, students are taught the basics of digital tools including Photoshop and InDesign, as well as basic techniques for combining, modifying and assembling various objects in order to create physical works of art.
"For me this class has been a necessary reminder that as artists we have the ability to shape culture, so what we produce matters, it has the potential to shape and influence a society," said Kristin Fowler, an art and design student currently enrolled Professor Wittenbraker's section of the course. "We also learn practices and patterns that will help us succeed throughout the rest of art school."
Bradford believes that understanding how meaning is created in culture has real-life application for artists, designers and others creating cultural objects, and that learning to think about how experiences, images and objects carry meaning for people is truly valuable and relevant in almost any field.
"Beyond direct application in jobs, the kinds of things we learn in Making and Meaning open up new ways of understanding the culture around us," he said. "The class can really enrich how you experience and understand things like movies, music, fashion and online culture."
Aside from creating art themselves, students are able to learn about contemporary art and methods that the artists of today are employing.
According to Erin Fisher, Library Programs Manager in the Pew Library and also a non-degree seeking student who recently took the course, Making and Meaning is at this point the most influential class she has taken at Grand Valley.


"We live in a visual world, and this class taught me to see our world through a new lens," Fisher said. "The skills I acquired from taking the class have been invaluable, even as a non-art major. I took the class with the hopes that I'd learn new skills that would help me better succeed in my job. The class offered me that plus so much more. This class taught me to be more perceptive of the visual culture in which we live. And this is a skill that has fundamentally changed the way I experience the world and the visual imagery that saturates it."
Paul Wittenbraker, associate professor of art at GVSU, believes that the course has plenty to offer students from every major. He hopes that in the near future the idea that art courses are strictly reserved for art majors will die out.
"We are excited to get the word out about such courses because they run counter to the idea that many students have that the art department is not interested in non-art-majors, and that it is difficult to get into these courses," Wittenbraker said.
For students interested in enrolling in Making and Meaning, there are seats available in a number of sections for the winter 2015 semester. For more information about the course, visit gvsu.edu/art or contact the art and design department at artdept@gvsu.edu.