CLAS reorganization implemented this semester
Theater, film and video programs move to different departments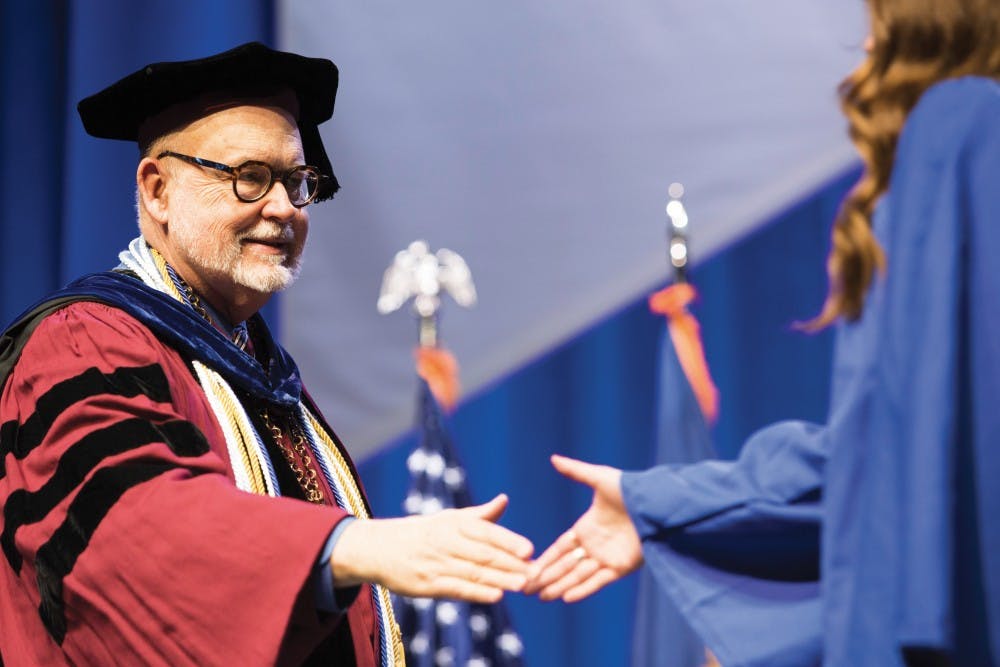 GVL/Archive Dean of the college of liberal arts and sciences, Frederick J. Antczak, shakes hands with students as they walk across the stage to recieve their diploma and graduate at the 2015 commencement ceremony, Saturday April 25.
In April 2017, it was announced that Grand Valley State University's School of Communications was set to undergo reorganization beginning in August of the fall 2017 semester.
The proposed changes included the theater program becoming part of the music and dance department and photography, along with film and video production programs, joining the art and design department.
This restructuring was announced by former GVSU Provost and Executive Vice President
for Academic and Student Affairs Gayle Davis, who retired this summer. Davis, along with Fred Antczak, dean of the College of Liberal Arts and Sciences (CLAS), expressed support for the changes and optimism for what would follow.
Now, as the 2017 school year has officially begun, there are no major changes. As it was originally explained, no units were closed or created due to the reorganization, nor was the curriculum affected. However, moving forward, there are likely to be more modifications.
Jim Bell, theater professor at GVSU, said he, along with other professors in the affected majors, are still adjusting to the change. However, he said he can see opportunities for students developing from the restructure.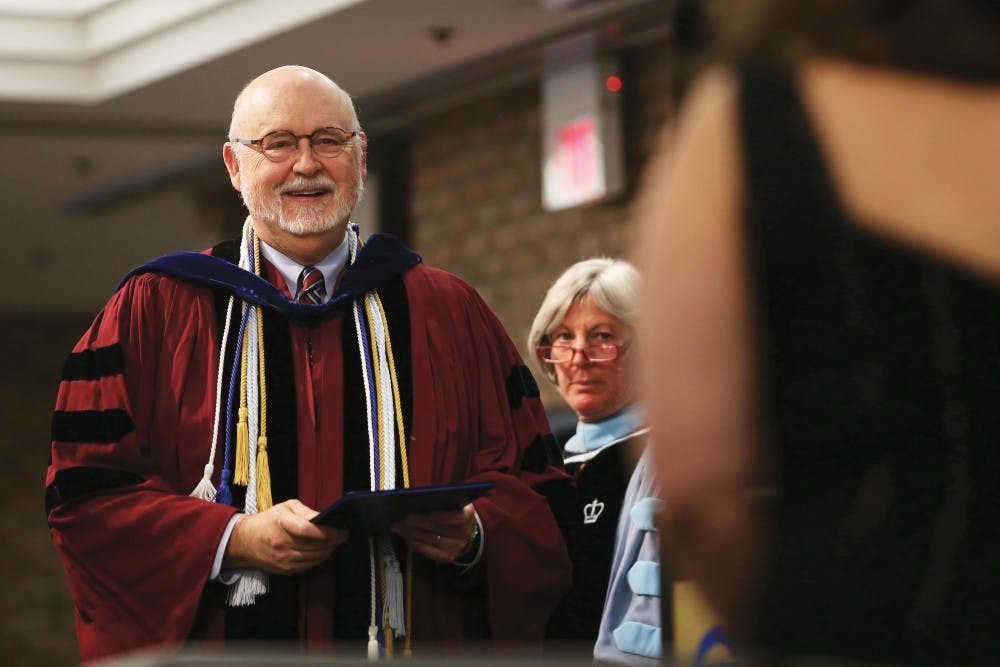 "For the theater major program, the change places us with other performing arts programs where we have similarity with faculty and students in the music and dance disciplines," Bell said via email. "For theater, it will also mean reconsidering our curriculum to address some requirements that had belonged to our status as a part of the School of Communications. It is a big change administratively."
With the theater program going from being one of eight majors in a large school to one of three programs in a large department, Bell believes its visibility within GVSU will rise. He hopes this, along with the new facilities, will bring more theater students to GVSU.
Still, he would like to maintain connections within the communications department.
"There has been some overlap for theater with the previous music and dance department and shared facilities that now can be more efficiently operated," he said. "But there are also past associations that the theater program will miss that we want to try to work to continue, such as with film and video and with communications studies.
A number of theater majors double major in communication studies, and a number of our theater minors are film and video majors. So, we will need to work to retain those ties."
Kim Roberts, visual and media arts department chair and film and video professor at GVSU, said the restructure was a "fabulous idea and a long time coming." She described the newly merged programs as having an "organic and synergistic" relationship.
The unit, which consisted of adding photography and film and video production programs to the art and design department, is now called the Department of Visual and Media Arts (VMA).
Roberts said nothing has changed following the reorganization as of yet, except the department name. She also said the VMA faculty will be "discussing innovative approaches to interdisciplinary opportunities within the new department, so in a couple of years, these changes will begin to manifest."
"Filmmaking is an art," Roberts said via email. "As visual and media artists, being exposed to the history and theory of art and cinema will greatly enhance our students' ability to communicate visually and produce films with more meaningful content."
She believes this exposure will make students much more competitive on the national and international level.
"We also believe that our programs will greatly enhance the studio arts in bringing animation, photography, new media and filmmaking to their majors," Roberts said.
Antczak said it seemed like a "timely moment" to set up new collaborations and new opportunities for students, specifically referencing the development of the new performing arts center, the Thomas J. and Marcia J. Haas Center for Performing Arts. He also echoed Roberts' comments, describing the new mergers as "synergies."
"I think even in the School of Com. you see new focus and a clarity of what the major is about," Antczak said. "That helps students."
The decision on the CLAS reorganization was enacted by then-provost Davis, and though the announcement was made in April, faculty and staff members were not made aware of the change prior to that date.
Roberts confirmed this, saying, "No, we were not consulted ahead of the announcement."
Bell said "much has been discussed about the process involved in the reorganization" but didn't want to comment further on the process.
According to Antczak, he and Davis discussed the actual change in December of 2016, but he said these possibilities had been "under discussion for several years, since the external consultants that the School of Communications had wrote a report that made a similar suggestion."