Murray Scholar learns about privilege, culture abroad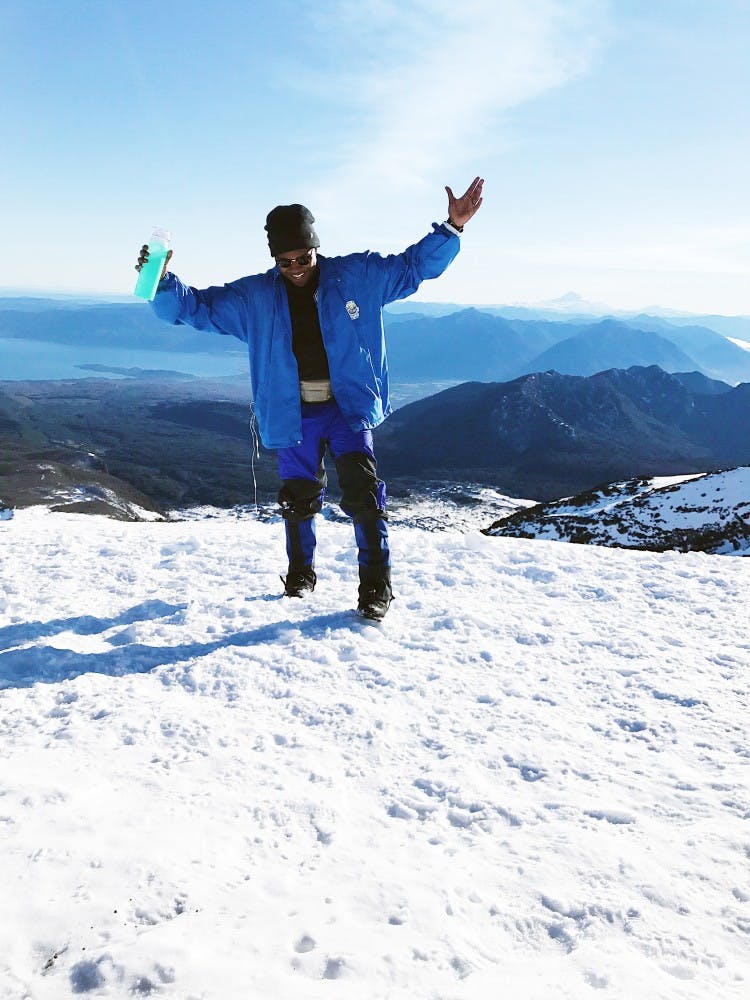 GVL / Courtesy - Alissa Lane
Study abroad programs offer a unique opportunity for students, allowing them to step outside their comfort zones and get the most out of their foreign language education.
However, pulling the trigger on a study abroad program can be one of the hardest decisions a student can make. Going to a foreign country is a journey that can be terrifying at first, but it can also give students the opportunity to see the world in a different light.
Dashaun Ragland, a junior at GVSU majoring in biomedical sciences and minoring in Spanish, made the decision to study abroad, and he wishes that he could go back and do it all over again. Ragland began exploring study abroad programs his freshman year but was initially hesitant to make a final decision. His grandfather currently lives in Ecuador, and his parents have traveled in the past, but he had never been out of the country.
At 20 years old, Ragland found the Chile study abroad program and knew it was the right program for him. He finalized his decision; packed up his belongings; and, for nine weeks this past summer from May to July, he lived in Chile. Even though he was a little nervous about having to use Spanish to get around, he had faith that he could do it.
"That excited me, I think," Ragland said. "Because I mean, I was nervous obviously about getting lost and all that, but at the same time I was confident enough in the Spanish that I knew that I could get around barebones."
Ragland admits that before he went, he didn't know what to expect. So, when he arrived in Chile, he was surprised to learn that the city he was in was well-developed, not unlike cities in the U.S. Even in the little town he stayed in right outside of the capital, the environment mimicked one he was already very familiar with.
"The town we were in was a bit small, but it was very homey," Ragland said. "There was the college we were in, we could just walk around everywhere and there was a bus system. Nothing was very out of the ordinary for me, except it was in Spanish, obviously."
While in Chile, Ragland stayed with his host family, whom he still talks to on a regular basis. They incorporated him into their everyday lives, and he even traveled with them to his host grandmother's house where they celebrated Mother's Day.
He got to know and admire the family he was staying with as each day passed. Even though he sometimes got lost in the conversation around the dinner table, it didn't deter his host family from getting to know him and incorporating him into their daily lives.
"My host brother, he was really cool, and he was very interested in me because I don't think he's met anybody black before," Ragland said, "But he loves hip-hop and American culture. It was amazing because he was like, 'Do you like Kendrick?' and I was like, 'Yeah, man, I love Kendrick.'"
While in Chile, Ragland came across multiple learning experiences that would allow him to strengthen his Spanish-speaking skills. Whether it was through conversations with his host family, guided excursions or simply just having to get around the city, he had to utilize his Spanish, which eventually got to the point of fluency.
"I actually learned a lot of Spanish from Uber drivers," Ragland said. "Uber was really cheap there, and I used it a lot. They were always curious where I was from, so I talked to them, and it was really fun."
Even though Ragland was technically in Chile for his Spanish minor, his biomedical sciences major still came into play. His host brother had some knee problems and therefore needed to see a doctor, one who also happened to be a friend of his. This doctor was a surgical resident in an orthopedic program and was willing to do the exam right out of his house. When Ragland's host brother asked him to come along, Ragland's pre-med side just couldn't say no.
"I was just kind of watching while they were doing it all in Spanish, and I was like wow, this is perfect," Ragland said.
Making an effort to say "no" as little as possible, Ragland traveled up and down Chile. He was able to explore the different landscapes and experience all that Chile has to offer over the span of those nine weeks. From staring at the Big Dipper on the horizon, exploring the desert in the north and navigating the arctic in the south, Ragland didn't let the fact that it was winter in Chile stop him from experiencing this Spanish-speaking country–even as he pushed himself to the limit.
"A girl in my group decided that she wanted to climb the volcano," Ragland said. "It's a national park where there was a big volcano, and it's huge. We hiked to the top of it, and it was the hardest thing I've ever done."
Of the many lessons Ragland learned on his trip, his eyes were opened to the fact that compared to the people in Chile, citizens of the U.S. live relatively privileged lives.
"I went into this trip thinking that I was going to be poor and that I was going to struggle," Ragland said. "There were struggles just because we're really spoiled here. The biggest thing I took away from that trip is that people really survive and live really happy lives with so much less."
He also explained that while he was on his study abroad trip, he was truly the happiest he's ever been. Without any technological devices to distract him from absorbing the culture and experiencing Chile, he was able to make true connections with the people around him that otherwise would not have been possible.
"It's a great opportunity for you to go and really meet people beyond the superficial," Ragland said. "You really get to know people, and you really get to make really strong connections in a very short time. It's hard to believe, but it happens."
Ragland said committing to studying abroad is the hardest part but that students shouldn't let fear stop them from the experience because once the trip is over, they'll want to do it all over again.
"Do your research, but not too much research," Ragland said. "Know fun things to do, know what the locals like to do for fun, because I wanted to go out really far. I know that if I had done too much research, I would've saw things that would scare me. I like to think of it like people are afraid to pull the trigger because of safety, but the U.S.A isn't that safe if we're really being honest.
You just say that those are the bad parts. But that's how it is in every other country. At the end of the day, there are people who live there every day, and they live happy lives."
Ragland was a Murray Scholarship recipient, receiving financial aid and guidance from GVSU in his trip. Alissa Lane, the outreach coordinator at the Padnos International Center, said GVSU is able to give out eight of these scholarships a year at a maximum of $5,000 each.
"In addition to the Murray family who established the scholarship and support it, there's also different people and organizations that have contributed to it over the years," Lane said. "We actually have an event on Nov. 2 that helps raise funds for that scholarship."
Lane also said that stories like Ragland's allow students to realize they shouldn't let cost deter them from looking into studying abroad.
"The Murray Scholarship is definitely one piece of that, but there are so many additional scholarships and funding opportunities available to help students realize that dream of studying abroad," Lane said.
For more information on the Murray Scholarship, as well as other study abroad scholarships, visit or visit the Padnos International Center at 130 Lake Ontario Hall.