GVSU student body by the numbers, fall 2017
Total enrollment again surpasses 25,000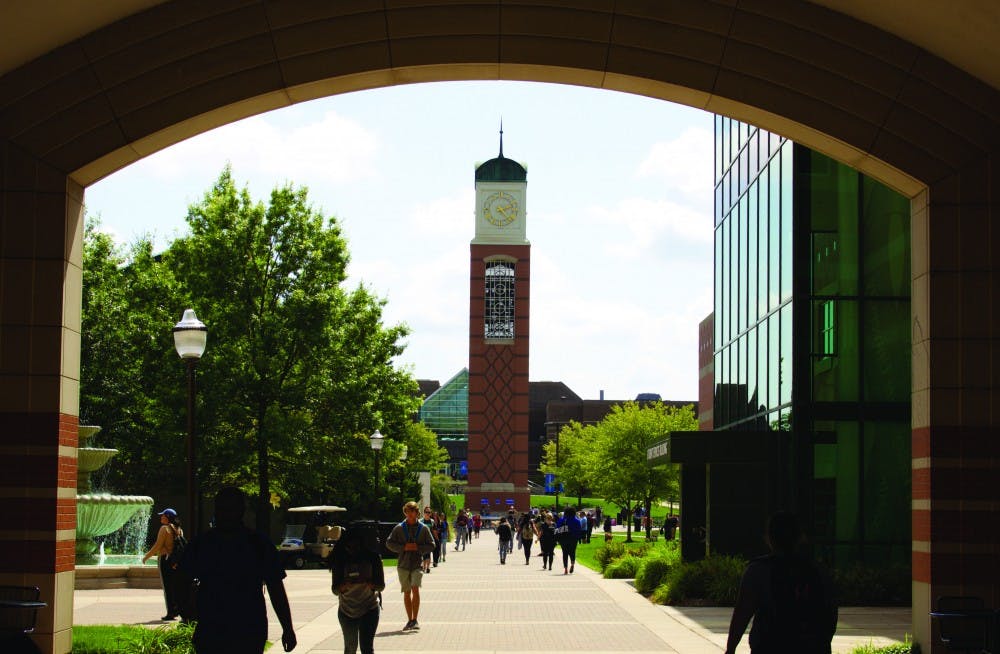 GVL / Joshua Vissers
With a new freshman class navigating the hallways at Grand Valley State University comes an updated set of statistics on the study body enrollment. Released just this week, the numbers show GVSU has done it again: More than 25,000 students are enrolled at the university, and out of the 25,049 individuals who make up the student body, more than 4,000 of them are first-time students—a goal GVSU has hit in the past six years.
Along with the 4,185 new freshmen, there are 1,625 transfer students, more than 400 international students, 4,344 minority students and 2,108 students from out of state.
Philip Batty, director of institutional analysis at GVSU, said the numbers reveal that the university remains stable and healthy each passing year.
"It's more a story on continuity than change," Batty said. "We continue to be a large and healthy public university. We have enrolled more than 25,000 students that continue to be very well-qualified to pursue higher education."
Stephen Glass, acting vice provost for student affairs and dean of students, also commented on the health of the university, saying these growing numbers signal a healthy, adapting institution, rather than a stagnant one.
"A university that is healthy and adapting is creating new programs, creating other opportunities, has a lot of students on campus, has student groups of all types," he said. "That's all sign of a healthy, growing university."
According to Glass, GVSU has the best of both worlds: a large campus feel yet intimate, hands-on classrooms. He thinks these numbers reflect the value of what the university offers to current and prospective students all across Michigan and the Midwest.
"Students are wise," Glass said. "Parents are wise. You don't spend money needlessly. You put your money where you're going to get value. I think what the numbers are showing is that we have value."
Glass said GVSU has programs that match the needs of students and that the university is adapting to what is going to make those students successful. This ability to adapt to all the different students on campus makes GVSU a fierce competitor in college retention and graduation rates across the state of Michigan.
"We're graduating students at a better rate than most of the other universities in this state," Glass said. "Our six-year graduation rates are third or fourth behind U of M, Michigan State, Michigan Tech. We're right up there with all the big universities on graduation rates, on retaining students, so you come here, you stay here and you graduate.
That's what we want to do. A healthy university keeps its students and graduates its students."
GVSU's status as a healthy university is not only evident in these newly released numbers, but also in the other designations it has received. GVSU has been named one of "America's 100 Best College Buys" by Institutional Research and Evaluation, a "Best Value" and "Best Public Regional University" by U.S. News and World Report and a member of the "Best in the Midwest" by the Princeton Review.
Even though these numbers and designations alone give GVSU a positive image, Glass said GVSU is not done adapting.
"We're in good shape," he said. "We're looking for ways to be in great shape anywhere we can and in any way that's possible. That's where we're focused: adding more value to students."