GVSU-authorized charter school delays opening
Students relocated this academic year due to unmet construction deadline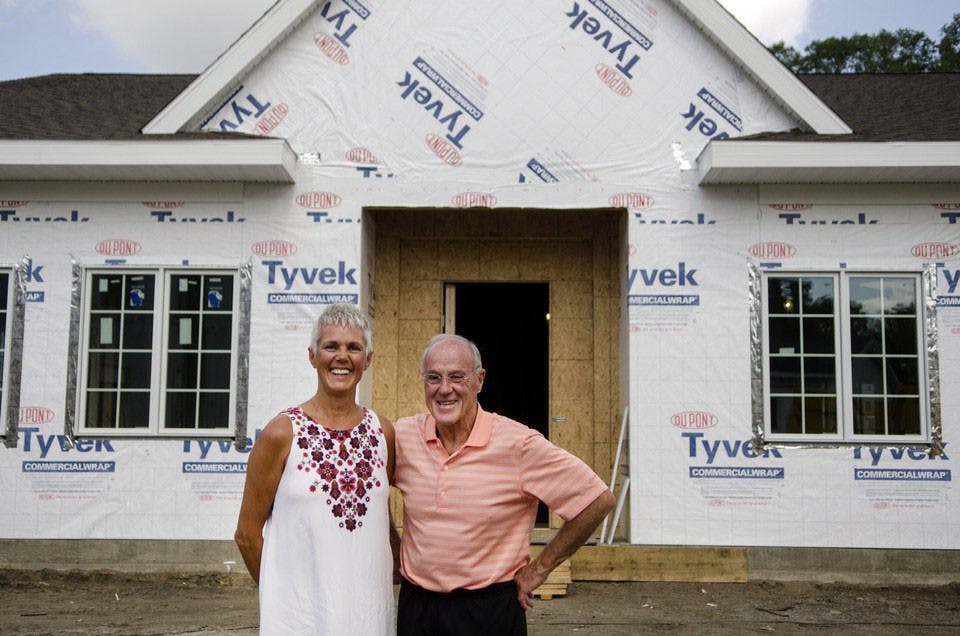 GVL / Courtesy - Samantha Madar / Mlive.com Laura Wyble (left) and Don Tassie (right) are seen in front of Francis Street Primary School, Wednesday, August 30, 2017. Francis Street Primary School at 1320 Francis St. Jackson, Mich. will postpone opening until August 2018.
A delay in the opening of the new Francis Street Primary School has caused students to make last-minute adjustments for this school year.
Grand Valley State University and the GVSU Charter Schools Office (CSO) are authorizing the new charter school located at 1320 Francis St. in Jackson, Michigan. This 5,000-square-foot building will be dedicated to kindergarten, first- and second-grade students.
It was scheduled to open Wednesday, Aug. 9; however, the building wasn't completed in time. Classes were going to begin this fall in the new building, but they have now been pushed back due to the delay in construction.
Students were forced to relocate back to their original schools for this school year. The Head Start program for children three and four years old was pushed back as well, but it is still scheduled to begin in early October 2017, while the remainder of classes and students will not be starting until the following August 2018.
Not only has this impacted the students, but three fully trained teachers prepared with their curriculum were laid off for this year.
"Launching a new school is dauntingly complex, and the task is exponentially more complex in an urban area where students' needs may vary greatly," said Rob Kimball, associate vice president for charter schools in the CSO. "Francis Street Primary didn't have an occupancy permit for their building, which is the standard by which GVSU determines if a building is safe for students. Accordingly, state law didn't permit the school to open, and GVSU did not approve a secondary site location for the school."
Though many people are disappointed by the delay, the crew has been working long hours and through weekends to keep the project moving along. Kimball assures it will be worth the wait.
"GVSU requires all of its chartered schools to outperform their neighborhood school option," he said.
As of now, the structure of the building is finished, and drywalling, siding and bricklaying have begun. After that, the playground and driveway will be installed.
Dan Warren, school consultant for Francis Primary in the CSO, said this decision was made "in the overall best interest of students and families."
The CSO is committed to "(providing) all parents and communities with quality options for their children to obtain an education," Warren said.
Students who were enrolled to begin at Francis Street Primary this year may reapply during this coming spring 2018 enrollment period.