Award-winning film director to speak at GVSU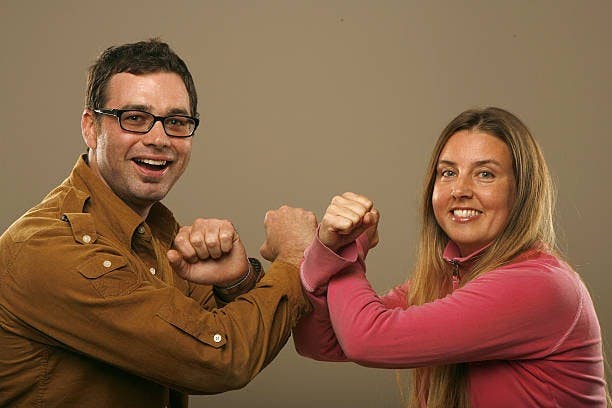 GVL / Courtesy - J. Vespa / Getty Images Sarah Price and Bradley Beesley, directors during 31st Annual Toronto International Film Festival - "Summer Camp" Portraits at Portrait Studio in Toronto, Ontario, Canada.
Award-winning director Sarah Price will be giving a lecture at Grand Valley State University investigating the state of women in the media industry. The lecture, which will take place Tuesday, Nov. 14, at 6 p.m. in Room 246 of Lake Superior Hall, will be preceded by a showing of her movie, "L7: Pretend We're Dead," at 4 p.m in the same location.
"Right now, sexual harassment in the entertainment industry and elsewhere is really in the forefront of news," said John Schmit, associate professor in the Department of Visual and Media Arts, who is organizing the event. "Sarah's going to talk about her experiences personally, her involvement in the issue and bring awareness to it."
Schmit has a personal connection with Price, which aided in bringing the lecture to campus.
"Sarah and I go way back to graduate school at University of Iowa," Schmit said. "She reached out to me letting me know she was on a college tour showing her films. It sounded like it would be a good idea to add Grand Valley as a stop. This is the only stop in Michigan, so it's pretty cool."
The film being shown, "L7: Pretend We're Dead," is a documentary about the American grunge band L7.
"I think students are going to learn a part of music history that has not had much focus," Schmit said. "L7 has been this influential band in the grunge music scene, and they did it on their own terms as an all-woman group. Their music has a strong feminist message to it."
Price has been recognized for many of her films, especially "The Yes Men and American Movie." Despite being renowned, she still has roots GVSU students can relate to.
"Sarah's been all over the world," Schmit said. "She's been based in LA and other places, but she's from the Midwest. There's that Midwest connection. Students are always wondering if being Midwesterners puts them at an advantage or disadvantage. They can learn from her and maybe be inspired."
Schmit said students can learn a lot from this experience, and he hopes they come with questions prepared.
"They'll be talking to a professional filmmaker who is fun and accessible," Schmit said. "I think they're going to enjoy entering into this discussion of women working in the entertainment industry."