KCON assistant dean earns recognition for leadership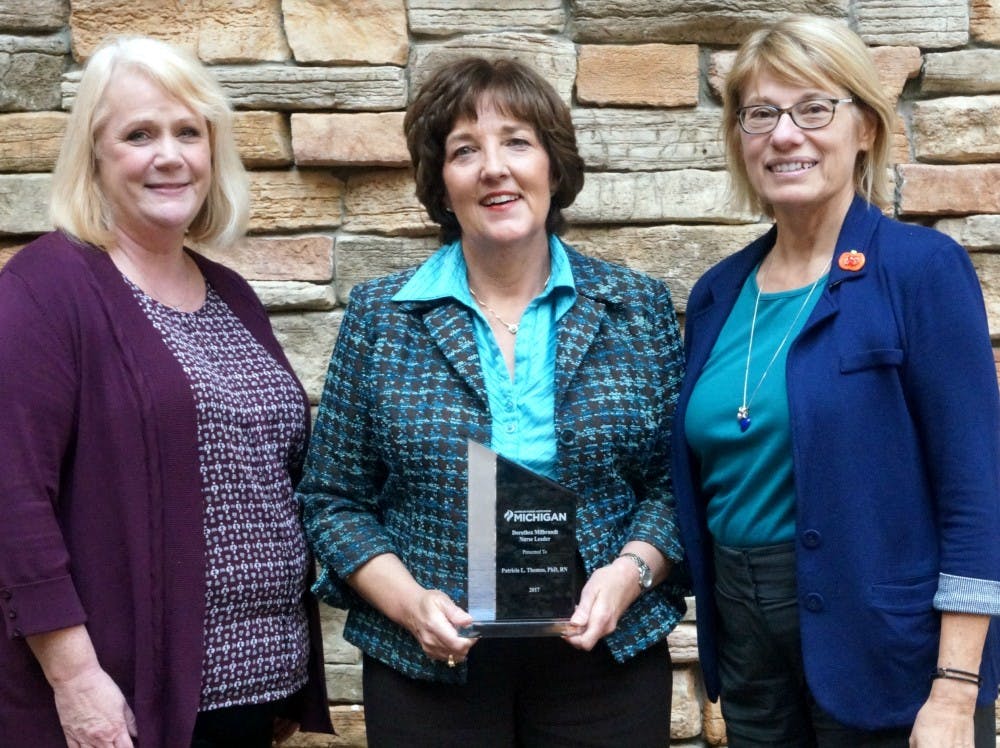 GVL / Courtesy - ana-michigan.org
"You know, when you have a dream, and you have passion and belief in what you're doing, … anything is possible."
Tricia Thomas was told she wouldn't cut it as a nurse, but her leadership as the assistant dean of practice at Grand Valley State University's Kirkhof College of Nursing earned her recognition as one of the forefront leaders in the field of nursing in Michigan.
Thomas was named the recipient of the Dorothea Milbrandt Nurse Leader Award by the Michigan chapter of the American Nurses Association (ANA). The award is given to an individual who possesses integrity and fairness; participates in professional nursing organizations; demonstrates excellence in building successful mentoring relationships; demonstrates creativity, management skills and a passion for excellence; and is a role model for listening, negotiating and collaborating within a team.
"I was one of those kids that was told that I would never be a nurse and that I'd be better off going to a technical school," Thomas said. "You know, when you have a dream, and you have passion and belief in what you're doing, and you're well-prepared, anything is possible. Never in my wildest dreams when I was sitting with a high school counselor did I ever think that somebody like me would earn an award like this, but I have to say that it's the dedication of others who have led and mentored me that have allowed me to do this."
Thomas' leadership has inspired others in the field. Tobi Moore, executive director for ANA Michigan, saw the impact Thomas had on the field.
"The award really focuses on people that have served as mentors in leadership," Moore said. "The impact that Tricia has made, all across the state and at a national level in regard to nursing, has been to make sure that the next generation is included and brought into the fold as we transition into the next time of the generation."
Receiving this recognition means a lot to Thomas, as she had known of Milbrandt's work and looked up to her.
"I'm a lifelong Michigander, and I knew of Dorothea's work and what she had accomplished, and her passion and her fervent drive to accelerate the contributions of nursing, but also to hold nurses accountable for their responsibilities to those they were serving," Thomas said. "She was a magnet appraiser and I'm a magnet appraiser, and she was one of the forerunners in establishing standards for exceptional practice.
"So, to have my colleagues, my contemporaries, people I work with, people that I've known for many years, acknowledge that parallel was really humbling."
After receiving this award, Thomas plans to continue to show good leadership at GVSU and help her students continue their successes.
"I hope I can bring it back to the university," Thomas said. "My goal in being here is to share that with my colleagues and with my students, undergraduate and graduate. I'm serving as the college liaison for civic engagement, which gives me an opportunity to develop those relationships with both practice and community partners."
Thomas embeds herself in the education of students. For her, that's been an excellent method of offering support.
"I'm also involved in the classroom, sharing these experiences, supporting students in developing their leadership, and mentoring and supporting them in their projects and their coursework," Thomas said. "So, I think I have a pretty ready vehicle, just by the virtue of the work that I'm doing."
Those interested in learning more about the Michigan chapter of the ANA can visit the organization's website at www.ana-michigan.org/.